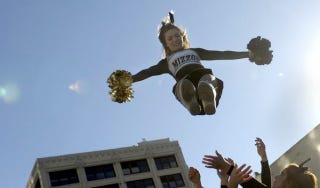 This here college-football day commences with No. 4 Oklahoma State visiting Missouri. It's a momentous contest being broadcast by FX.
Other noon — or 12:21 — matchups include North Carolina at No. 7 Clemson (ESPN), No. 9 Arkansas at Ole Miss (SEC Network), No. 11 Kansas State at Kansas and No. 23 Illinois at Purdue (ESPN2).
Versus has Yale at Pennsylvania, if you're into that kind of thing. Don't know how you could be with those Oklahoma State and Clemson games, but we're all God's children.
Enjoy.