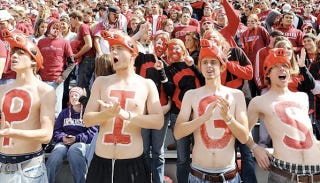 The network game: Ohio State at No. 14 Nebraska (ABC, 8 p.m.). The 7 and 7:30 p.m. cable games: Vanderbilt at No. 2 Alabama (ESPNU); Colorado at No. 7 Stanford (Versus); No. 15 Auburn at No. 10 Arkansas (ESPN); No. 12 Michigan at Northwestern (Big Ten Network); and No. 24 Texas A&M at Texas Tech (FX).
For those of you who like watching UCLA's cheerleaders, they host Washington State at 10:30 p.m. eastern.
For those compulsive gamblers looking for one last break-even swing, TCU (-6) at San Diego State is your potential savior.