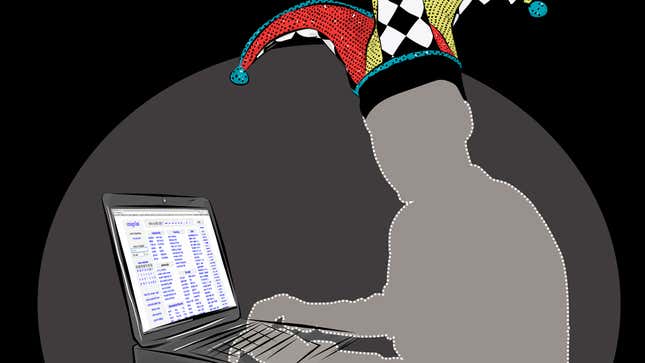 In 2015, the only people out there who have any real use for Craigslist are hookers and serial murderers. Personally speaking, I haven't used the site since 2009, when my wife and I bought an outdoor playhouse from a lady nearby. Turned out the playhouse had a colony of yellowjackets inside of it. Craigslist is less than useful. It is the internet's bear trap.
Bass' ERA stinks, but not compared to who he is off the mound | Worst of the Week Countdown
But that hasn't stopped a lot of KRAYZEE FUNNY people out there from posting some random horseshit Craigslist request that was clearly designed to either a) end up on the viral D-list or b) take a million-to-one shot at getting laid. I've had enough, specifically of these postings:
I bet he writes cover letters the same way. "Dear sir, this won't be your NORMAL cover letter [draws ninja stars all over the paper.]"
THE GUY SELLING OFF HIS EX'S CRAP IN A WHIMSICAL MANNER
I bet he never even had a girlfriend.
THE PHONY JOB LISTING FOR SOME PROMINENT JOB OPENING
Wanted: Republican nominee for president, 2016. Must have 10-20 years of experience lying. LOL! It says all the things about that job that we were only thinking!
PERSONALS FOR PEOPLE WHO HAVEN'T DISCOVERED TINDER OR GRINDR YET
"Eight inches, big head, long tongue. Love to lick pussy, if you're a hotty, I won't even mind licking your pussy every day for the next 2 weeks lol. I can host, but most likely would be best if I came to you. If you want to grab a drink I'm down for that also."
Hey, let me come lick your pussy. Oh, and we can have a beer, too, if you're into that sort of thing. Getting beers can be awkward, I know. Maybe we just stick to the pussy-licking. You pay for the cab.
HOOKERS WHO DON'T CLAIM TO BE HOOKERS BUT ARE TOTALLY HOOKERS
"Why waste your time calling an escort and paying money and maybe getting arrested when you can get the real thing for free??" Because you're a hooker.
THE BULLSHIT MISSED CONNECTION
Dude, that girl didn't give you her number for a reason. Why are you looking for her on Craigslist anyway? You'd have better luck searching for her at an Amway.
Never use Craigslist.
Art by Sam Woolley.