This weekend, Russian figure skater Evgeni Plushenko helped the Russian team win a gold medal in the new team figure skating event. Now, the 31-year-old has his sights set on a medal in the individual event. This is great news, because Evgeni Plushenko is awesome. Let us explain.
Jokic? Embiid? The NBA MVP is obvious... right? | Keep it a Buck(et)
Who is Evgeni Plushenko?
Plushenko is a figure skating juggernaut. During NBC's broadcast of the men's free skate on Sunday night, Scott Hamilton called him the greatest male figure skater in history. He's got a cabinet full of gold medals from world and European championship events, and he took the silver in the 2002 Olympics, gold in 2006, and a controversial silver in 2010. He was a hilarious dick about that last one.
Can you elaborate?
Absolutely. Plushenko had been retired from figure skating for three years, but announced a return in hopes of grabbing a second straight gold. He ended up taking silver behind American Evan Lysacek, and he fumed about it. You see, Plushenko's short program and free skate featured the quadruple jump, the most difficult jump in figure skating, and he landed them. Lysacek's did not; his routine was less difficult, though he nailed it. Plushenko went for the most difficult route and screwed up just enough to chip at his score. He was grouchy about the outcome.
G/O Media may get a commission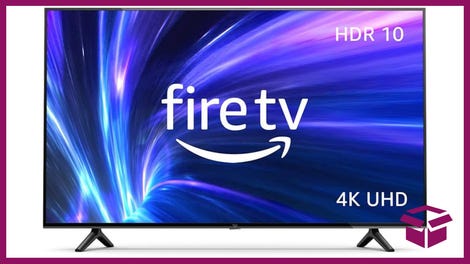 42% Off
Amazon Fire TV 50" 4K Smart TV
What'd he say?
From ESPN's writeup:
"I was positive that I won. But I suppose Evan needs a medal more than I do," Plushenko said through a translator. "Maybe it's because I already have one. But I have to share with you, two silver and one Olympic gold medal is not too bad."
Oh snap. There's more:
"If the Olympic champion doesn't know how to jump a quad, I don't know," Plushenko said. "Now it's not men's figure skating, now it's dancing."
OH SNAP. No, wait, there's even more:
"I am happy with my performance today," said Plushenko, who took off his silver medal as soon as he left the ice. "After 3½ years [off] you can win the silver, it's not bad."
Silver? FUCK SILVER. And while the medals were being presented, he walked across the gold podium for one last "fuck you." This skilled, bird-like man is a movie character.
Despite the upset in Vancouver, Plushenko's still the only living skater to have medals from four separate Olympics, the last of which he won over the weekend while helping his Russian team win gold in the team figure skating event.
Can we see some tape?
Yep! Let's watch that 2010 free skate that garnered him a silver. Even when his jumps looked to be headed for disaster in midair—which is how his technical score took a hit—he somehow recovered. And he was also a fantastic showman throughout, dancing, blowing kisses, entertaining the crowd.
Is it a big deal that he's back for these Olympics?
Definitely. At age 31, Plushenko is a dinosaur in figure skating years, and his body has broken down considerably. Plushenko's had many injuries in his career, hurting his knees and back multiple times, and he suffered a herniated disc in November 2012. He still has screws in his back from a surgery at the beginning of 2013. He's basically the Brett Favre of figure skating—"The ol' gunslinger's comin' back for one more shot!"—but instead of exuding annoying faux-humility, he carries himself like a true badass.
You think age can slow down Evgeni Plushenko? Psh, the years have only made him more powerful:
Plushenko's not exactly lovable, but his hateability is part of the draw. He goes all out on his programs while hamming it up for the crowd, as if to say, "Yeah, I just did a quadruple jump and salsa danced a few seconds after, because I can." Plushenko's arrogance is backed up by his dominance. He's so outwardly disgusted with failure that if he doesn't earn another medal in Sochi, he will likely have something lovely to say about it.
This guy seems to have a lot of swagger. Can I see more of that, please?
You bet! Plushenko appeared and danced—on skates—in Russian singer Dima Bilan's performance of "Believe" for Eurovision back in 2008. It was fucking glorious.
Work it, Evgeni
OK, but are you sure I'm supposed to like him? He seems like a bit of a dick.
Any athlete with Plushenko's combination of personality, longevity, and pain tolerance deserves your respect. He really shouldn't even be at these Olympics, and yet there he was on Sunday, nailing quads like the old days. And now he's been emboldened by his performance in the team skating event. Today, he announced that he'll be competing in the men's singles competition despite his back pain. Plushenko's old and probably too rickety to make a real run at a medal, but watching him try should be fun as hell.
More Olympic field guides: Japanese women's hockey team | Viktor Ahn | Jason Brown