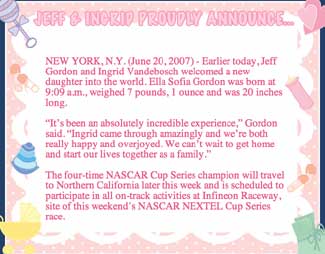 We don't mean to imply that Jeff Gordon's newborn child — Ella Sofia Gordon, born yesterday at 9:09 — isn't going to be the most important person in her own family, but the following paragraph appeared on his official site today. (Via the Celebrity Baby Names Blog ... now there's a blog! It's almost as good as Cakes And Babies!)
The four-time NASCAR Cup Series champion will travel to Northern California later this week and is scheduled to participate in all on-track activities at Infineon Raceway, site of this weekend's NASCAR NEXTEL Cup Series race.
Good to know! Oh, kid, you got a week until you're working on the pit crew. Enjoy this brief time off.
Baby Girl For Jeff Gordon, NASCAR Champion [Celebrity Baby Names Blog]