The MLB trade deadline has come and gone, and although news of more deals could trickle in over the next few hours, I think it's safe to say that the hot fucking stove was only moderately hot today. Look, my hand is on the stove right now. It's right there on the burner. What do I feel? It's not cold, but I'm not in pain.

Look at all these warm deals:
Fernando Abad? Why didn't they trade for Fernando Agood????
G/O Media may get a commission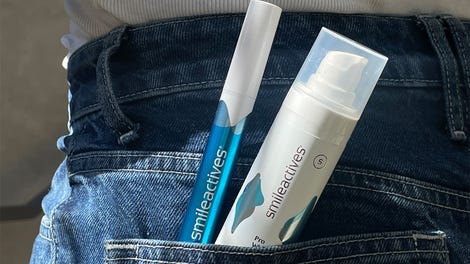 58% off
Whitening Powerhouse Pen & Gel Duo
This is a fine trade for the Mets, who are currently sporting one of the grimmest lineups in baseball. Quick, see if you can guess who the Mets batted in the 3-4 spots against the Rockies yesterday. The answer is ... James Loney and Neil Walker. Christ!
So, yeah, Bruce isn't a savior by any means, but slotting a guy who is hitting .265/.316/.559 with 25 homers into a lineup like that is going to make a difference. Also, I realize that this tweet is supposed to be a burn...
... but those are all my favorite baseball players. Good trade, Mets!
The Dodgers are still scrambling to replace Clayton Kershaw's production, so they got Hill, a 36-year-old who's had serious elbow and shoulder injuries, reinvented himself as a sidearming reliever, and pitched a grand total of 182 MLB innings from 2008-2015. Somehow, he's started 14 games for the A's this year and currently has 90 strikeouts in 76 innings to go along with a 181 ERA+. Baseball is extremely weird.
Reddick is just the latest good-but-not-great-but-also-maybe-bad? player to get tossed into the Dodgers' always-muddled outfield situation. Dave Roberts could just pick three random outfielders' names out of a hat every day, and I don't think it would make much of a difference.
Oh hell yeah, baby! The Rangers did their part to bring a little spice to today's proceedings, arming up for the stretch run with Jonathan Lucroy and Carlos Beltran, and they managed to do it without giving up Joey Gallo, Jurickson Profar, or Nomar Mazara.
Lucroy doesn't get a lot of attention outside of Milwaukee, but he's really, really good. He had a bit of a down year in 2015, but racked up 5.6 WAR in 153 games in 2014, which is about as good as it gets at the catcher position these days. He's playing great baseball so far this season, hitting .299/.359/.482 with 13 dingers and top-shelf defense. He'll bring an immediate lift to the lineup, and a merciful death to the Rangers' current catching platoon of Robinson Chirinos and Bobby Wilson.
The Rangers also got should-be future Hall-of-Famer Carlos Beltran, who is 39 years old but still kicking ass. The Rangers are starting to look like a lock to win the division, and Beltran will be ready to hit many impressive dingers in the playoffs, because that's the thing he does better than almost anyone.
Okay.
Okay.
Okay.
Awww man, you hear that? That's the sound of the Pirates officially giving up.
Fine.
Steve Pearce is known to sock a big dinger every now and then. I like Steve Pearce.
Remember when Matt Moore was going to be really good? :( He's still just 27 and could conceivably be really good one day, which is something the Giants must believe, seeing as how they just traded their starting third baseman for him.
Got it.
Hey, Ivan Nova! He's pretty good, right?
[Looks up Ivan Nova on Baseball Reference for the first time in four years]
Ohhhhh. Yikes.
Yep.
The Marlins acquired Colin Rea from the Padres last week, and then got extremely mad when he had to leave his first start with an injury. So, they called takesies backsies sent his ass back to San Diego today. This seems like a good note to end this trade deadline roundup on.