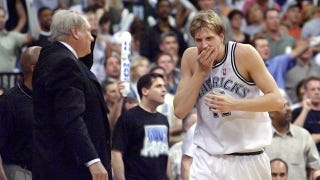 I suppose this is Where Amazing Happens, isn't it? NBA Finals, Mavericks vs. Heat, at American Airlines Arena in Miami (which is totally different from American Airlines Center, in Dallas), 9 p.m., ABC.
It's a rematch of the 2006 Finals, if you choose to think of it that way, which the Heat won in six games. Neither team tasted a Finals before or since.
Now, new coaches (Spoelstra replaced Riley, and Carlisle replaced Avery Johnson), new players (LeBosh for the Heat, Kidd and Marion for the Mavs) and new history (Dallas won both meetings this year).
Breen, Van Gundy, and Jackson have the call, oh, about 30 minutes from now. Have at it below.