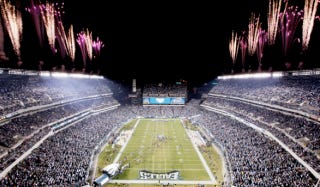 And so it begins, with the "games" for which ownership demands you pay full ticket price to ensure regular-season attendance, but they're not really games at all. They're practice sessions at which understudies replace the stars just after the performance begins. If not before that.
But it's live football, and in a nation that kneels at the altars of pigskin and distraction from home responsibilities, that's good enough.
The Ravens visit the Eagles and Jaguars stop by the Patriots's home at 7:30 p.m. Shortly thereafter, the Seahawks face the Chargers and Broncos do the same with the Cowboys.
The nightcap features the Arizona Cardinals rolling the dice of survival by setting foot in Oakland. Godspeed.
Maybe this year'll be more entertaining, what with the lockout and all. Who knows.