As you know, we make no pretense at being experts in the world of hockey. (Or anything, really.) Because the season is starting, like, this weekend, we've asked Eric McErlain, of Off Wing Opinion, to preview the upcoming season for us. We don't know anyone who knows hockey better than he does, so he's your man. Enjoy.
As we established in Wednesday's Western Conference Preview, from top to bottom the Eastern Conference is hockey's weaker sister. How do we know this? Well, as we saw yesterday, the numbers don't lie. Further, imagine we could take a team just outside of the top three in the West — for giggles, I'll take the Minnesota Wild — and drop them into any division in the East. Seemingly overnight the Wild would be a serious favorite to take the title in any of the three divisions.
Yet, when free agent season opened up, it seemed like all the big names available, with the exception of Ryan Smyth, were content to stay well inside the Eastern time zone. Why was that? Some Western teams have claimed that the relatively soft travel schedule has a lot to do with it, and there may be some merit to the argument. Consider the New York Islanders. While they might be making more trips than just about any other team in the league, they'll average less mileage per trip than anybody else too — a figure helped along by eight away games in Manhattan and Newark that they could get to via the Long Island Rail Road and the PATH Train. As for the rest of the schedule, with the exception of a trip in January to Colorado and Western Canada, most of the Isles road schedule is well within a two-hour flight of LaGuardia Airport.
Over at FanHouse, we've been previewing the league team by team since the end of August (yes, our paymasters at AOL are cruel and efficient). Looking at the East this season have been Tom Luongo (Northeast), Greg Wyshynski (Atlantic) and Jon "J.P." Press (Southeast). Teams are listed in my predicted order of finish. To see what the rest of FanHouse has to say, including our picks for the Cup and all the other major hardware, stop by FanHouse later today. As it turns out, there are plenty of people toiling in obscurity who know lots about hockey. At the end of each capsule, I'll introduce you to some.
G/O Media may get a commission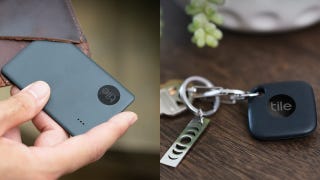 Up to 35% off
Tile Item Trackers
Northeast Division: Recent NHL history hasn't been terribly kind to teams that fall in the Stanley Cup Finals when they take to the ice the following season, but fate seems to have drawn a different hand for the Ottawa Senators. Bloodied and beaten after a grueling (for Ottawa anyway) five-game final in June, the Sens come back to the division without having suffered any major personnel losses. Meanwhile, the respective offseasons of their divisional foes have ranged from Running to Stand Still (Boston, Montreal) to Flirting with Disaster (apologies to John Buccigross). The one team who did address some needs in a constructive manner was Toronto, but they won't improve so much as to present a challenge to the Sens — at least not enough to alter one of my life's guilty pleasures. That would be watching Ottawa spank Toronto on the early game on Hockey Night in Canada.
Ottawa Senators: Still the class of the Conference. The biggest news in Kanata this offseason was the coup d'état that saw General Manager John Muckler deposed in favor of Head Coach Brian Murray. In turn, Murray elevated his assistant, John Paddock, to the top bench job. Paddock, who hadn't served as an NHL head coach since 1995 when he was with Winnipeg, has been fighting the good fight for most of his career in the AHL, where he boasts a better than .500 winning percentage and three Calder Cup titles. The team he takes over still boasts one of the best scoring lines in the league (Dany Heatley, Jason Spezza and Daniel Alfredsson) one of the deepest blue lines in the league and an emerging beast in goal with Ray Emery, a man who silenced many doubters, myself included, in last year's playoffs. And while the Sens did lose a couple of bodies who will undoubtedly enjoy success elsewhere (Tom Preissing, Peter Schaefer and Mike Comrie), Ottawa is more than deep enough to make up for their absence. NB: The Sens sleepwalked through the first third of the schedule last season before waking with a vengeance and cutting through the rest of the Conference like a buzz saw. I wouldn't count on another slow start out of the gate this season. Follow it all on audio with Sens Underground.
Buffalo Sabres: What a difference 15 months make. In the Spring of 2006, the Sabres were merely one victory away from appearing in the Stanley Cup Finals, a berth that was denied them in large part to an nasty injury bug that hobbled most of their blue line. Now after an offseason that saw the departure of their two top centers (Daniel Briere and Chris Drury) and a failed raid on restricted free agent Thomas Vanek that forced them to match an absolutely ridiculous offer sheet from Edmonton General Manager Kevin Lowe, what was the league's model franchise coming out of the lockout is now the red-headed stepchild once more. But fear not, as Head Coach Lindy Ruff might say, as the Sabres passed this way before in the immediate aftermath of Dominik Hasek's departure, a journey that combined careful drafting and player development with shrewd trades. So, despite the enormous hole down the middle, Buffalo still boasts five players who scored 20 goals or more. Concussion-prone Tim Connolly and Derek Roy are going to have to step up to fill the gap on the top two lines, while the defense will have to make due without Teppo Numminen, lost for the duration in the aftermath of heart surgery. Then again, like always, good goaltending can make up for a variety of sins — and that's exactly what Ryan Miller will deliver again this season. While we won't be talking President's Trophy, this team still makes the playoffs but in the bottom half of the draw. Follow it all at the under appreciated Bfloblog.
Toronto Maple Leafs: The second best team in Ontario will always be the team the rest of Canada loves to hate — with the exception of the programming department at the CBC. While the names that jump out of the lineup at you are still Mats Sundin, Bryan McCabe and Darcy Tucker, the rest of the roster is filled with younger players who have been quietly developing under the watchful eye of an agonized fan base. Toss in a goalie eager to prove he can carry a team (Vesa Toskala) and a gritty sparkplug winger who can score 25 goals or more (Jason Blake), and it would seem that this team that missed the playoffs by just one point will be back in the dance come next April. How long they stay depends a lot on Toskala's upside. After being underserved for so long blog-wise, Leafs Nation can now count on Pension Plan Puppets.
Montreal Canadiens: After battling for a playoff spot down to the last day of the season, the Habs fell just two points short and clearly as frustrated as Toronto as the Islanders slipped past them both into 8th place. Looking at the team now, it's hard to say much more than it's just a year older. Last year's squad boasted the best power play in the league, a title that just might be a little tougher to obtain again as Sheldon Souray has slipped out of town. Sliding into his spot on the power play is the well-traveled Roman Hamrlik, a player with some impressive offensive talent of his own, though not quite as prone to defensive mistakes as the man he replaced. The rest of the blue line, led by Mike Komisarek and Andrei Markov, are a physical lot, and they'll have to be on a team that boasts little offensive firepower. Cristobal Huet has proved he belongs in the NHL, though he's really only keeping the seat warm for youngster Carey Price, who is really that good. Saku Koivu is one of the great class acts in all of sports, but he's got little support outside the mercurial Alexei Kovalev. North of the border on St. Catherine Street, Eyes on the Prize means something very different.
Boston Bruins: Does it make sense to feel sorry for Zdeno Chara? Here's a guy who only got into the league as sort of a fluke, drafted specifically by Islanders GM Mike Milbury so the Isles would have a physical presence to match up against Eric Lindros. Sent to Ottawa as part of another of Milbury's ill-advised trades, Chara actually rounded into a complete player, developing some solid offensive skills to go along with the banging. Then, having proved he deserved a big payday, he signs with the Boston Bruins before last season, a team that at times could be best described as "Blackhawks East". And while running a power play that boasts Patrice Bergeron and Marc Savard can be a blast sometimes, the patchwork nature of the rest of the lineup and the revolving door in goal turn life into something of a bummer. Importing Manny Fernandez from Minnesota looks to be something of an upgrade, but Chara has to know that he's not going to be getting a lot of help when it comes to keeping the crease clear. And while it will be nice to see ex-teammate Peter Schaefer arrive from Ottawa, Boston is going to need to clone him a few times over to make a real difference, especially playing for new defense-first coach Claude Julien. To watch it all without turning away, you'd have to be soveryobsessed.
Atlantic Division: The big news here: After 13 seasons where their presence loomed over the division and they won three Stanley Cups and made four appearances in the Finals, the Devils may finally be in eclipse. For sure, they're not dead yet, and won't be for as long as Martin Brodeur man's the net in New Jersey. But now that Scott Gomez and Brian Rafalski have escaped Lou Lamoriello's clutches, the best Brodeur can hope for from here on in is a series of holding actions against the rising tide represented by the Rangers and the Penguins. It's the Manhattanites who represent the most immediate threat, having supplemented a lineup that very nearly took down Buffalo in the playoffs with two of the most attractive free agents available (Gomez and Chris Drury). Meanwhile in Pittsburgh, a critical mass of some of the best young talent in the league, led by the best player on the planet, lies in wait knowing that it's only a matter of time before it begins its own reign of dominance. After enduring the worst season in the history of the franchise, the Flyers have re-tooled smartly, while the lowly Islanders seem condemned to simply keep making it up as they go along.
New York Rangers: Two years ago, it seemed as if the Rangers were finally and truly committed to a patient rebuilding program, albeit one built around the tempermental Jaromir Jagr, a player who could frustrate as thoroughly as he could entertain. But then came an unexpected playoff berth out of the lockout, and the plan seemed to fall by the wayside. First it was Brendan Shanahan who found a home on Broadway, and now it's Gomez and Drury who will be cashing checks drawn on Charles Dolan's millions. With the skill comes plenty of grit (Sean Avery, Ryan Hollweg and Colton Orr), albeit supported by a mostly anonymous blue line corps playing in front of the division's next great goalie, Henrik Lundqvist. Ultimately, he's going to be the reason why the Rangers walk away on top of the division, and how far they go in the playoffs will rest on his shoulders as well. Watch it all with the Hockey Rodent.
Pittsburgh Penguins: Just how much longer is the league going to be able to deny Sidney Crosby his first of what very well may be many Stanley Cups? The ingredients for success all seem to be there: Crosby is butressed by some very talented contemporaries in Jordan Staal and Evgeni Malkin. A veteran presence is always handy, and the Pens have plenty in Mark Recchi, Gary Roberts, Sergei Gonchar and Daryl Sydor. Petr Sykora could surprise, or he could pass without a trace. There's some nice young talent on the blue line as well in Ryan Whitney and Brooks Orpik, and you've got more than enough jam when you need it in Georges Laraque and Jarkko Ruutu. All that leaves us to talk about is the goalie, where Marc-Andre Fleury and his yellow pads impressed as much in the regular season as they depressed in the playoffs. Unless Fleury makes a big jump, they'll be denied again this year, but not for much longer. For more, hang out at The Pens Blog.
New Jersey Devils: Lose Gomez and Rafalski, spackle with Dainius Zubrus, Karel Rachunek, Aaron Asham and Vitali Vishnevski. Broduer is one year older. Your defense looks paper thin and your power play may be fatally wounded. There's still more than enough offensive talent up front in the form of Patrick Elias, Zach Parise and Brian Gionta to keep the opposition honest, while Jay Pandolfo and John Madden will always give the opposition's top line real fits. Add it all together and there has to be some drop off, as the blue line is too thin for it to be any other way. That means the real wild card here is new Head Coach Brent Sutter, a man who spurned feelers from the team he won multiple Stanley Cups with in order to coach his son just one more year with the Red Deer Rebels — and wait around for another opportunity to coach in the NHL that wouldn't quite so fraught with peril. I think Sutter will hold it all together and keep the team in the playoffs, I just can't imagine this defense giving Brodeur the support he — or any other top goalie — would need in order to win it all. If you think there's more upside here, it's probably because your mantra is In Lou We Trust.
Philadelphia Flyers: Coming off the worst season in the history of the franchise, one that saw franchise hero Bobby Clarke eased out the back door, you'd figure the city of Philadelphia would be willing to cut the Flyers a little slack coming into this season. Then again, it doesn't seem as if Flyers General Manager Paul Holmgren was counting on having much wiggle room this season. The quick and efficient rebuild actually started last season when he plucked goalie Martin Biron out of Buffalo. Taking advantage of the disarray in Nashville, Holmgren snagged defenseman Kimmo Timonen to helm his power play, while forward Scott Hartnell provides some character and grit. A neat deal with Edmonton netted throwback defenseman Jason Smith and winger Joffrey Lupul, a man who will be looking to regain his scoring touch and grateful for a change in scenery. Oh, and did I mention Daniel Briere, a center who fetched one of the biggest free agent paydays of the offseason? He'll only get to play alongside Simon Gagne, creating one of the more dynamic tandems in the league. Overall, Holmgren gets a solid A for putting these pieces together, which means the heat is on Head Coach John Stevens to make it work. If you can put up with the Phillies talk, The 700 Level won't be a bad place to watch it all unfold.
New York Islanders: One might be tempted to call Charles Wang the worst owner in New York Islanders history, but then you recall the tenures of men like Roy Boe, Howard Milstein and John Spano, a man who actually took control of the team after submitting less paperwork than it takes to get an interest-only mortgage. Still, the fallout from his sacking of GM Neil Smith a little more than a year ago is still roiling the franchise, as GM-learning on the job Garth Snow careens from one near-disaster to another. After stepping out of his goalie pads (but not immediately off the salary cap) and into Smith's old office, Snow somehow cobbled together a team for NHL-exile Ted Nolan to coach. That the team made the playoffs is tribute to Nolan's talent and sheer force of will; that the roster imploded almost immediately as the free agent signing period started in July is all a tribute to Snow and Wang's short-sightedness. After spending so much time and treasure acquiring Ryan Smyth, the Isles couldn't keep him. And while they were concentrating all their powers on what was a fool's errand, critical cogs to the team's success like Jason Blake, Viktor Kozlov and Tom Poti all jumped ship in the blink of an eye. While the team recovered late by importing Bill Guerin, Mike Comrie and a host of lesser names, my bet is that Nolan won't be able to work miracles for a second year in a row. Contract loadstone from Hell Alexei Yashin was finally bought out in a move that probably came two years too late. Look out below. If you must, pine for the good times with Murph at Islanders Army.
Southeast Division: Looking at this division is like looking at a poker had where you've drawn five wild cards (I know that can't ever happen, but stick with me here). No matter which way you might shuffle them, the order will always seem to make sense. The distance between the five teams is really so small right now that just one key injury or just one freak career year could boost one team well ahead of the rest of the pack. Carolina is stacked up front but has some questions on the blue line and a goalie who's still looking to recapture the magic of Spring 2006. Tampa Bay has hardware of its own, and packs them into their barn like no other team in the division — too bad the situation in goal is as questionable as it was last season. Florida could be on the cusp of a return to the playoffs with the division's best blue line and a significant upgrade in goal. Ever since it clinched its first division title and playoff spot in team history, nothing has seemed to go right for Atlanta, while Washington has retooled under the radar and looks poised to make a serious jump.
Carolina Hurricanes: Of all the trios of forwards that came through Washington last season, the one that left the greatest impression with me was Rod Brind'Amour centering a line with Erik Cole and Ray Whitney. Whenever those three took to the ice, especially on the power play, it just seemed like they shared some sort of psychic connection with one another. They cycled, the puck never hit anything else but tape and the blind drop passes always seemed to connect. They were just that good playing together. But there wasn't any psychic connection involved. Instead, it was just three incredibly talented athletes applying themselves in such a way where they could dominate the offensive zone. But what really makes Carolina scary is that I still haven't mentioned names like Eric Staal, Cory Stillman, Matt Cullen and Scott Walker. In many ways, the 'Canes are as loaded up front today as they were two seasons ago at the deadline when they acquired Doug Weight and Mark Recchi at the trade deadline before going on to win the Cup. The same can't be said for the blue line, which didn't do a whole lot to support former Conn Smythe winner Cam Ward. Then again, the blue line isn't all that different from the one that got Carolina a championship, as all sorts of problems tend to fade away when you can roll four lines. Here's a bet Head Coach Peter Laviolette rights the ship and recaptures some of the spirit of 2006. If you get a chance, take a trip with the Acid Queen. Then again, I can't promise that you'll come back.
Washington Capitals: After feeling nothing but abject pain since the absolute implosion and demolition of the 2003-04 season, there seem to be plenty of reasons to smile for the Washington Capitals. Superstar winger Alex Ovechkin seems to have settled in nicely with free agent center Viktor Kozlov. Michael Nylander, the man many figured would become the front line center that Ovechkin had lacked his first two years in the league seems to have settled into a comfortable relationship with the team's other Russian left wing, Alexander Semin, while rookie Nicklas Backstrom will bide his time as that line's right wing until management is convinced he can center a line on his own. The emergence in camp of winger Tomas Fleischmann has dropped Team Captain Chris Clark to what looks to be a fearsome checking line alongside Boyd Gordon and Matt Pettinger. Defenseman Tom Poti should help on the power play, while the offensive play of second-year defender Mike Green means Washington has a lot more options on the blue line. Meanwhile, a whole host of players used to logging minutes are now scrapping for just a few remaining roster spots. If a new focus on puck possession can keep the heat off of goalie Olie Kolzig, this team is more than capable of improving 20 points or better and fighting its way into the playoffs. As the points pile up, wax poetic with On Frozen Blog.
Florida Panthers: Just one year removed from trading the best goalie in the world out of town, the Panthers were fortunate enough to take advantage of a talent fire sale in Nashville to import goalie Tomas Vokoun, a real upgrade over the tandem of Ed Belfour and Alex Auld. Playing in front of them may be the best blue line corps in the division, led by Jay Bouwmeester. Up front, it's all about the steady and reliable Olli Jokinen, supported by Nathan Horton, Stephen Weiss and Jozef Stumpel. While it's easy to look at some teams that add a number of big names, it's hard to ignore the fact that Florida has made some nice incremental progress over the past few years, with Vokoun perhaps being that missing piece. It wasn't all that long ago that finding a Panthers blog was almost as tough as finding a Panthers fan. But now I'm happy to add On Frozen Pond to my reading list.
Tampa Bay Lightning: Now more than three years removed from a Stanley Cup championship and under new ownership, GM Jay Feaster and Head Coach John Tortorella are still searching for that one spark that once separated the Lightning from the rest of the pack. Most of the main pieces are still around, in particular Brad Richards, Vincent Lecavalier and Martin St. Louis, but the Lightning are more than just that high-priced salary cap-eating trio. Nobody, but nobody runs a power play like Lightning defenseman Dan Boyle. Sure, St. Louis and Lecavalier are the stars of that show, but don't forget that Boyle is the director, deftly distributing the puck midway between both boards straddling the blue line and setting up his teammates for chance after chance. If Steve Nash was a hockey player, he'd be Boyle on the power play. But now that the undrafted defenseman will miss 4-6 weeks due to a freak accident that left him with several severed tendons in one arm, the Lightning will have to cobble together a power play with what's left. Something tells me that they'll make do, but it won't be nearly as easy. But as tough as that task might be, the challenge pales in comparison to getting the sort of play they need in goal to make another deep run at the Cup. Experience the triumph of hope over experience at Boltsmag.
Atlanta Thrashers: I have a soft spot in my heart for expansion teams, especially for expansion teams in the Sunbelt. Yes, the NHL's decision to expand far beyond its traditional markets may have been haphazard and ill-advised, but we're far beyond the point of no return when it comes to those questions. Like it or not, hockey is in the South to stay, especially now that we've got small but dedicated knots of true believers in markets like Atlanta who have embraced the game without hesitation. Which is why it was so painful to see Atlanta swept out of the playoffs by the Rangers in just four games, managing to only score six goals in the process. The sweep seemed to knock the wind out of the front office too, as there are few if any significant changes to report. The top line of Ilya Kovalchuk, Marian Hossa and Slava Kozlov returns intact, as does goalie Kari Lehtonen. But when a retread like Ken Klee is battling for time on the blue line, something is terribly wrong. For an insider's perspective, consult with Ben Wright at the Blueland Blog.