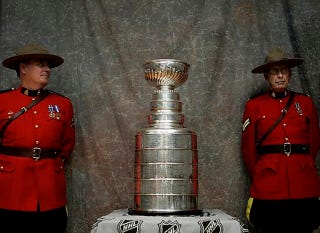 So, the hockey season that actually matters is about to start, with the Phoenix Kai Oats visiting the Red Wings (Nos. 6 and 3 in the Western Conference respectively) and the Tampa Bay Lightning heading to Pittsburgh for some 4-versus-5 eastside action.
At 7:30, the top-seeded Washington Capitals host the barely-in New York Rangers.
For your post-10 p.m. nightcaps, enjoy the almost-eliminated defending-champion Chicago Blackhawks vs. the Rebecca Black inspired Vancouver Canucks and there's-actually-a-team-in-Nashville-? Predators visiting the Emilio Estevez inspired Ducks of Anaheim.
Pace yourselves. There's much hockey left to be played before one group of guys get to take the trophy and do all sorts of deviant things to it for 24 hours at a time.
NHL Network unveils unprecedented live coverage of 2011 Stanley Cup Playoffs [NHL.com]