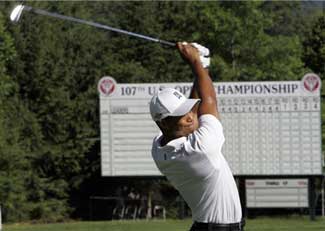 The U.S. Open, held this year in Oakmont, Pennsylvania (just outside Pittsburgh), begins tomorrow. Last year's winner was Geoff Oglivy, and though everyone always assumes Tiger Woods wins everything he hasn't actually brought home a U.S. Open trophy since 2002. (If you're still counting, he's still at 12, six behind Jack Nicklaus' record.)
As usual, we're mostly just keeping an eye on John Daly, but that's because we don't know anything about golf and mostly just find it a waste of land. (We're aware we're wrong on this.) There are golf experts out there, though, and our personal go-to guy is Shane Bacon, purveyor of the Dogs That Chase Cars golf blog, to preview The U.S. Open for us.
He does so, with much aplomb, after the jump.
———————————-
It's just golf, right? I mean, isn't that what everyone at a high level says when approaching this evil game that bears more bogeys than birdies and more headaches than handshakes?
Well, on the PGA Tour, it's almost always just golf. When the big wigs head to Hawaii for the early season money making events, it's just golf. Hit it in the fairway, hit it close to the pin, make the putt, voila - birdie binge. That spreadsheet usually holds true throughout the Masters and the Players Championship and all the little events in between. All of that bliss and euphoric idea ends, however, when the Unhappy Stupid Goofy Assholes (or USGA for short) get involved right around the middle of June.
Welcome Folks, it's U.S. Open week. That's right, your coming attractions include despondent millionaires struggling at what they normally do exceptionally well. The only catch in 2007 is that the golf course, Oakmont Country Club and Mental Institution, will bring as much joy and cheer as a John Daly honeymoon. That's right, this years U.S. Open is going to yield more "Oh Shits!" than "Nice Shots."
What to expect from this week?
Well, the television should be about as exciting as an Eastern Conference basketball game. "Oh wow, Ted Purdy just made another double-bogey and is still in the lead!" (Couldn't you observe this type of behavior with the typical drunk at the burnt out municipal golf course downtown?)
Expect the golf course to be just like a Manhattan cougar - aged, tough and just when you feel like you're in, she'll kick you right out the door.
What about the players? Well, the best part about the U.S. Open is that picking a winner is like trying to figure out which politician is crooked. Since 2000 we've had typical champions (Tiger in '00 and '02), steady Freddy's stripping the fairways (Retief Goosen and Jim Furyk in '01, '03 and '04) and those two random girls you took home but could never remember their names (Michael Campbell in '05 and Geoff Ogilvy last year).
This year, I'm picking Luke Donald and Sean O'Hair as my winners. One hits it straight, and the other just hits it solid and has been through so much trouble in his life, the rough at Oakmont shouldn't be too troubling. I'm sure the final score will be over par just like everyone is predicting, and I'm sure when Sunday night rolls around, most of the golfers will be giddy to get off that airplane and back to their comfortable homes.
Like it or not, the U.S. Open is way more than just golf.