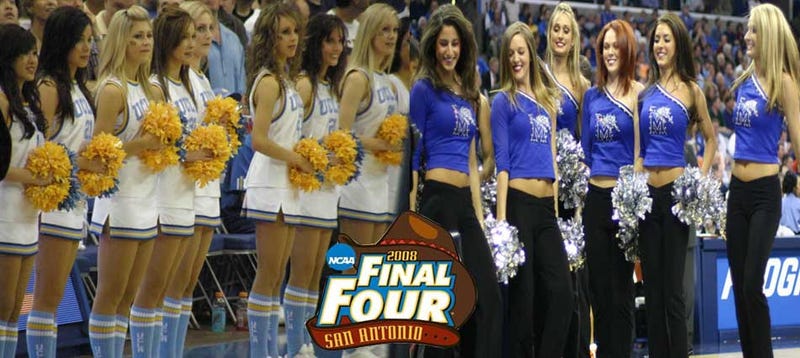 Finally, the Rumpelstiltskin of the tournament can weave chalk into gold, unless Kevin Love rains full-court chest pass threes all game. John Caliperi and Ben Howland would like to reserve their respective Final Four fortunes of years past. But remember: Larry Brown looms above all. And that's fine, so long as there's not a repeat of the dilatory pacing of the 50-45 UCLA win over Mem-PHUS Tuh-nuh-SEE in the tourney two years ago.
Joey Dorsey has to play down his embarrassing domination at the hands of Greg Oden last year and Darren Collison needs to shake the specter of last year's performance in the title game. Each will have their hands full dealing with the likes of Kevin Love and Derrick Rose.
I'll be blogging the game from a bar in Adams Morgan in D.C., celebrating the [undisclosed] birthday of some blogger woman. (I hope she enjoys the glass ceiling I got her!) But, anyway, yeah, Adams Morgan. If there's a delay, it just means I've tripped over the mounds of douchebags.