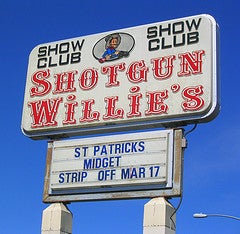 A golf team of pre-teen youngsters got a little more than they expected when they showed up for their junior club golf outing on Monday. Due to a scheduling "miscommunication" the lucky kids got to share the clubhouse with the annual Shotgun Willie's Charity Golf Tournament, an event sponsored by a Colorado strip club with the same name.
No, none of the kids were lap-danced out of their Buster Browns, but that didn't stop some annoyed parents from contacting the local TV news affiliate to voice their displeasure with the Eagle Trace Country Club's scheduling boner:
"When I walked into the club house to look for my girls, I saw a woman straddling a male at a dining table," said a mother who picked up her two children at the golf club.

[S]he says her children had quite a few questions on the ride home.

"'Mom, why is she only wearing underwear?'" she recalled. "'Mom, why are the girls wearing white and why do the men have water guns?'"
Eagle Trace acknowledges the screw-up, but says that the kids missed most of the truly tawdry behavior, and, that while the overlap occurred, there were only a few strippers who acted like there weren't shell-shocked 7 to 12 year-olds milling around the club. But, luckily, one Shotgun Willie dancer in attendance that day popped up in the comments section on the 9News site and did her best to allay the fears of some of the prudish townspeople:
I WAS ONE OF THE CADDIES IN THE TOURNAMENT....And I can attest to the mischief that went on Monday. Yes, we were naughty...did we mean to frighten the little children or offend their parents? Of course not. We were actually advised NOT to strip down to our bikinis until after 1pm, as we were made fully aware that there was a youth tournament in progress that overlapped our event...however, everyone started drinking at around 8am and by the time we reached Eagle Trace, drunken debauchery was already in full effect and I'm not even sure anyone was sober enough to notice or care a younger crows was present.

There were several inappropriate things going on other than "top dropping" although I won't go into the gory details...but I will say, when you stick a bunch of inebriated strippers and guys on a golf course...all hell breaks loose. No surprises there.
See? Just a little harmless top-dropping.
Mulligan! Kids golf tourney overlaps with strip club event [9News]