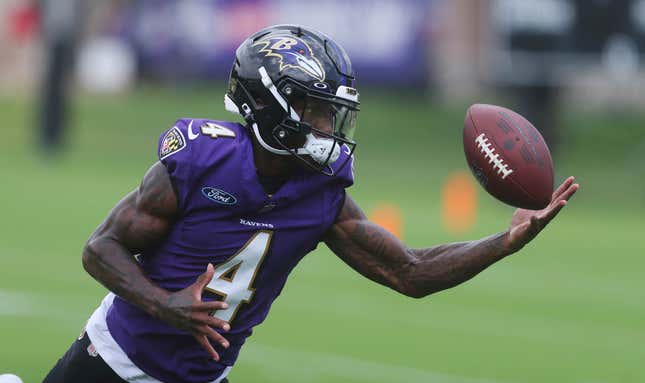 The Baltimore Ravens have been one of the NFL's most consistent franchises since their relocation to the mid-Atlantic in 1996. They have made the playoffs 14 times, secured six division championships, and won two Super Bowls. A superb 27-season run by any metric, and they have been able to maintain their winning ways without ever having a wide receiver on their roster named to the Pro Bowl. They are hoping that rookie Zay Flowers will soon be their first.
Will it be divorce court for Lamar and the Ravens? | Agree to Disagree
Flowers was selected by the Ravens with the 22nd overall pick in the draft. The top four wide receiver prospects in the draft all went off the board late in the first round, and consecutively with Jaxon Smith-Njigba being selected by the Seattle Seahawks with the 20th pick.
The wide receiver with the most buzz of the four, and possibly in the league, so far in training camp, has been Flowers. ESPN Ravens reporter Jamison Hensley said on The Domonique Foxworth Show that there has been more hype from camp about Flowers than Odell Beckham Jr. NBC Sports' Peter King visited Ravens camp on Monday and raved about the birds' new downfield threat.
"The most impressive rookie I have seen in six camps is Zay Flowers," King said via NBC Sports. "Why? He lines up across from a corner and unless they literally interfere with him or hold him, he has tremendous separation on almost every cut."
Xwitter has limited footage of Flowers in one-on-one drills, but one grainy video shows the type of explosion in and out of breaks that King was talking about. He comes to a violent stop and is back at full speed almost immediately as he turns the other way. Warning: Do not attempt this at home unless you have run a route for a real football team in the last six months if you value your knees.
Lamar Jackson was not happy when the Ravens traded Marquise "Hollywood" Brown last season, but he needs more than simply speed on the outside in the wide receiver corps. He needs players who consistently create separation so he does not have to run the ball himself so often to keep defenses off-balance. Jackson sees the field well and gets through his progressions quickly. If more pass catchers than simply Mark Andrews are providing him with windows to complete passes, then the Ravens' offense will be truly dangerous.
Of course, it is far too early to begin preparations on Flowers' Hall of Fame bust, or make some space ready for him in the Ravens' Ring of Honor. However, compliments like the ones that Flowers is receiving are rare for wide receivers in that organization.
He doesn't even need to become the Ravens' first Pro Bowl wide receiver this season for the team to have success. If Flowers can consistently threaten opposing defensive backfields and force more bodies to be sent in his direction, the Ravens' offense will be good enough to challenge for a Super Bowl appearance.