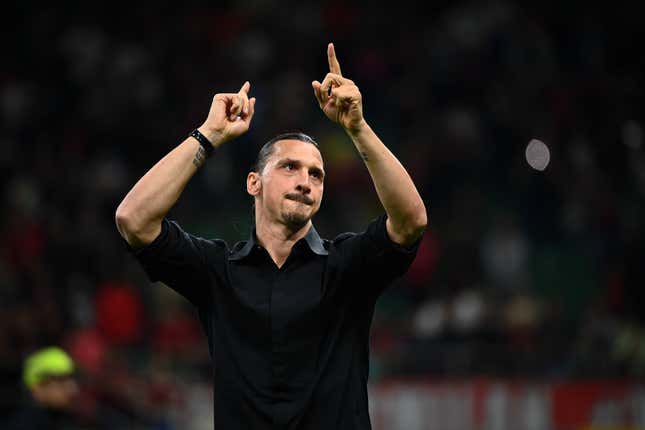 To say we'll be Zlatan-less is probably wide of the mark. Whatever Zlatan Ibrahimović goes on to do, you can be sure it'll be loud and full of bravado. But he won't be on the field, which is a loss for the sport, if only because there simply can't be anyone like him again. First off, no one's going to be able to refer to themselves as anything nearly as wondrous or as up their own ass as, "The Zlatan." You didn't know if it was an alien or a spoof of a superhero movie directed by Mel Brooks. It may have been both.

Can Liverpool Win The Quadruple? | What You Need To Know | FA Cup
It is unlikely that we'll see a player who can pile up 15+ goal seasons in four of the five Big 5 European leagues, as Ibrahimovic did. It's also kind of a shock that someone with an ego the size of a ring of Saturn, as Ibra's was, wouldn't have gone to Germany simply to complete the set just so he could say he did so. Zlatan delighted fans on both sides of Milan, Juventus, Manchester, Paris, and even LA for a brief bit. 605 appearances in six countries and 392 goals certainly tell its own gargantuan tale.
How much of Zlatan was hype?
There is also a school of thought out there that Zlatan was the world's most famous — and most expensive and brash — hood ornament. None of his teams ever won the Champions League. He joined a Juventus side that was already lording over Italy. He then left for Inter when Juventus got relegated in the Calciopoli scandal, and though Inter won the Scudetto all three seasons he was there, there also wasn't really anyone else to stop them given the state of the league with Juve in Serie B and recovering from their punishment.
Zlatan's critics will quickly point out that the season after he left Inter is when they won the treble in Italy, and their only recent European Cup. They'll also point out that Barcelona won the Champions League in the seasons before and after his only one with the club. PSG couldn't climb the mountain with him leading the attack, and Manchester United finished sixth his one season of contribution there. The only European winner's medal he has is from the Europa League in 2017 with United. How responsible he is for any of this is up to anyone's opinion, but it is that sort of record that kept him off the stage that Messi and Ronaldo made their own in a lot of people's minds.
To view Zlatan only on stats and medals would be to miss the entire vibes element of his career, which would be missing the point. Ronaldo may have been convinced that he was and is the greatest player to ever live, but The Zlatan thought he was born on Olympus. The dude has a career as a wrestling manager if he wants one:
Only Zlatan would take time out from his retirement speech to taunt visiting fans. And there were the goals, some of which felt like a bar bet he made with someone who thought he couldn't pull it off in an actual match. Like the one against Italy in 2004 that starts this thread:
The thing about Zlatan is that it's a pretty easy argument to make that he never made any of the teams he was on all that much better. Fuck, the Galaxy finished 7th and 5th in the West in his two seasons there, for as much as he scored when he was in MLS. Sweden never won a knockout match with him around in either the Euros or the World Cup, and then went to the quarters the first tournament he didn't play for them in 2018. Juventus, Inter, Barca, PSG were all dominant teams in their leagues and were winning before and after he arrived. Only in his first go with Milan in the 2010-2011 season could it be said that he lifted a team above its level. And looking over the roster of that team, there was still a lot of leftovers from the era where Milan racked up a couple European Cups. It's certainly a debate.
But that doesn't mean he didn't make all of those teams more interesting and watchable. Was he a good guy? Certainly not all the time. He fought with teammates multiple times, and is probably lucky that Oguchi Onyewu didn't kill him when they were both at Milan.
But you always had to watch him, for what he might say or what he might do. Maybe he was a legend, maybe he was a dressed-up and decorated clown, or quite possibly he was all of it and everything in between. One gets the sense that fans will talk about him like Denzel talks about Earl Monroe towards the end of He Got Game. Just this supernatural being that transcended how we usually judge players and sports, and those who did missed the point and in fact ruined the player.
Who knows what Zlatan's actual effect on his teams were? We'll all just be glad he was there and we saw it.
LAFC fans are terrifying
It didn't quite work out for LAFC in the second leg of the CONCACAF Champions League final, as they lost 1-0 on the night and 3-1 on aggregate as Leon took the trophy. But at least their fans brought the A-game:
Sex is, sadly, not a sport [Updated]
Finally, when I was a stand-up 107 years ago, I wasn't really good at sex or fart jokes. So I'll abstain (see what I mean?) from making any here. I'll just say there are going to be a lot of people who think they're qualified for this and most certainly aren't.
[Update] Alas, it turns out that sex is NOT a sport, even in Sweden. YET.

---
Follow Sam on Twitter @Felsgate.