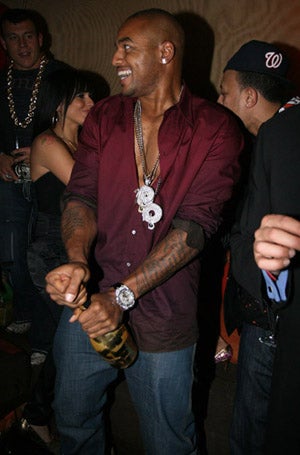 Details continue to come out concerning Chiefs running back Larry Johnson and an altercation with a woman at a Kansas City nightclub on Oct. 10, and it's interesting, if depressing, reading. Already scheduled to appear in court on Dec. 3 on an assault charge for pushing a woman at a nightclub , Johnson got into more trouble when he allegedly spit in a woman's face at Club Blonde. This time the incident featured the fun Johnson quote: "I'm going to kill your boyfriend." Larry Johnson: Winning friends and influencing people. From the Kansas City, Mo., police report, as obtained by the ironically-titled blog Arrowhead Pride :
When the victim found her friend, the friend told her "LJ" wanted to say something to her ... the listed victim stated the suspect then laughed and stated "All I wanted to tell you is that I'm going to kill your boyfriend." The victim replied by saying "OK." The suspect then stated "I'm going to [fuck] his world up because I can't [fuck] yours up." ... The victim then stated she backed away from the suspect thinking that the conversation had ended when the suspect took a drink and sprayed the victim with the drink by spitting it in her face."
So to recap, Johnson has been involved in four alleged assaults involving women; has been suspended by the Chiefs for breaking team rules (he sat out Sunday's game against the Titans, the team saying that the suspension has nothing to do with this latest incident); sang
a bizarre anti-Chiefs rap on MySpace last year
in which he referenced his contract dispute with the team; and, most notably of all,
has disappointed Stephen A. Smith
. If it seems like we've been down this road before, well of course we have. Johnson is a talented running back whose moral compass is certainly lost or broken, a curious state of affairs when one considers the strong support he's had from both his father, Larry Johnson Sr., and his college coach, Joe Paterno. While Johnson's story is not in Michael Vick or, God forbid,
Lawrence Phillips
territory just yet, doesn't it feel as if that's where things are heading?
Larry Johnson: 'I'm Going To Kill Your Boyfriend'
[Arrowhead Pride]