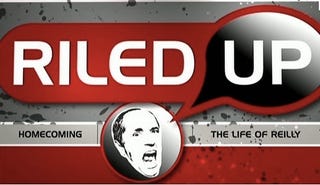 On Saturday, ESPN.com posted another installment of Rick Reilly®'s zany "Riled Up" video series, but it was quickly yanked. The "State of Statues" segment was up for a short period of time before ESPN.com's content ninjas intervened.
The segment was Rick Reilly® getting Riled Up about Selig's statue in Milwaukee and all that is wrong with constructing a statue like this because it gets Rick Reilly® Riled Up. But he was too Riled Up for ESPN's taste, apparently.
Our old, dear friend Josh Krulewitz was kind enough to track down why it was necessary to remove Reilly's notoriously powder-puff commentary from ESPN.com. The answer:
"We removed the posting because the closing comment was unduly personal by our standards. The commentary up to that point reflected viewpoints appropriately discussed on our air and other media outlets."
Unfortunately, he won't share any transcripts or repeat what Reilly® said about Selig. And, remember, this is not the first time personal comments about baseball's commissioner have been stifled by the WWL. Scott Van Pelt once said some off-the-cuff remark on his radio show about Selig carrying a pimp cup which veered into "unduly personal" territory. He was suspended for his comments.