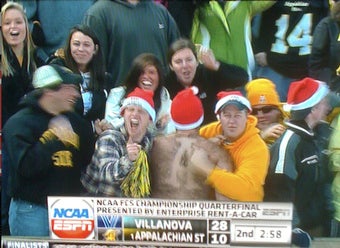 Because no one reads the newspaper, and SportsCenter's anchors are too perky for this early in the morning, Deadspin combs the best of the broadsheets and internets to bring you everything you need to know to start your day.
• That big fan in the picture shaved an "A" into his ample back hair, and all he got was a 42-24 Appalachian State loss to Villanova in the NCAA Division I Football Championship Subdivision quarterfinals. [Philly.com]
• Cam Newton won a trophy last night. A few people didn't vote for him, which gave a columnist from Birmingham, Alabama an opportunity to bring Jerry Falwell into the discussion. [Birmingham News]
• By hiring Texas' defensive coordinator as its head coach, the University of Florida saved itself from any Urban Meyer change-of-heart press conference and provided the headline writers of Florida the fallback of any number of "Champ" related headlines. [Gainesville Sun]
• Nordiques Nation invaded Strong Island for last night's Islanders/Thrashers game. They want the NHL to give Quebec a franchise. The logical move? Just hand them the Islanders and call it even. [Fanhouse]
• A world-record 113,411 people watched Michigan beat Michigan State 5-0 in The Big Chill at The Big House. Outdoor hockey totally rules. [Detroit Free Press]
• The Miami Heat won their eighth game in a row. [Miami Herald]
• The Pittsburgh Penguins won their 12th in a row. [Pittsburgh Post-Gazette]
• After hearing about a Shetland sheep dog taking an arrow through its abdomen, and how the dog's owners said they had no way of paying for the $2,400 surgery, Chicago White Sox ace Mark Buehrle bucked up.
Buehrle is reportedly a big dog lover, having donated before to animal shelters. He's also a big-time hunter — with a big-ass truck — who knows a thing or two about bows and arrows. He was bow hunting in 2007 when he bagged himself a black bear. [Riverfront Times]
• Jenn Sterger was out and about the other night. [Bob's Blitz]
• So was Kentucky QB Mike Hartline. And now he's suspended for the BBVA Compass Bowl. [Courier-Journal]