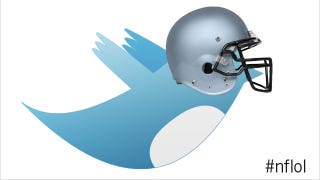 If you like pro football and you're on Twitter—and if neither of these things apply to you, well, Jesus, get over yourself; who are you trying to impress?—you've experienced the following scenario:
1. A player you like has an acccount!
2. You click "Follow," for you are interested in what he has to say.
3. Said player tweets incessantly at strangers, wishing them happy birthday, retweeting their random platitudes, responding to their embarrassingly servile compliments.
Take our friend Terrell Owens, someone established here as a tweeter of messages irrelevant to the vast majority of his followers. He's amassed more than a million of them, by the way. Some 40,000 more people follow him on Twitter than claim residence in Montana. He has the ear of more folks than the combined populations of Boston and Oakland, and this is what he says: