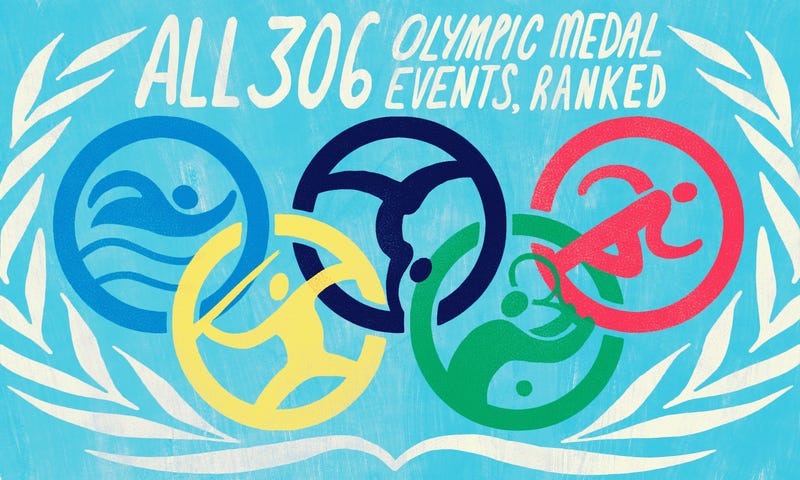 My friend Danny always says that the Olympics is a great opportunity to reflect upon how we have grown or regressed during the past four years. Four years ago I was working for NBC during the Olympics. I was getting paid thousands of dollars to watch television. My office was the Saturday Night Live writer's room. If I swiveled my chair around, I had a clear view of the SNL stage. If I was feeling tired, I could walk downstairs and get free coffee on the eighth floor of 30 Rock, from the Starbucks NBC had built just for the Olympics so we wouldn't have to leave the building.

Four years later, in 2016, I am writing this, hoping you will skim your way through a 20,000 word article about literally every Olympic sport. I will probably be watching the Rio Olympics from my mother-in-law's basement, assuming my two-year-old doesn't force me to change the channel to Peppa Pig. Enjoy!
1. Gymnastics – Women's Individual All-Around
I wish I could buy stock in how famous Simone Biles will be in a few weeks. Between Michael Phelps, Usain Bolt, and Simone Biles, we could very realistically be watching the greatest swimmer, runner, and gymnast of all-time compete in the same Olympic Games. Sadly, this is almost certainly the final Games for Phelps (his 5th), Bolt (his 4th) and Biles (likely her only Olympics, as she would be 23 in Tokyo).
2. Track and Field – Men's 100m
If Usain Bolt makes it to the starting line, he is winning this race. If he is not healthy enough to compete, Justin Gatlin and Yohan Blake will battle for gold. American Trayvon Bromell could sneak in for a bronze.
3. Gymnastics – Women's Team All-Around
The American women look to repeat as gold medal winners, following up on the Fierce Five's victory in 2012. Perennial contenders Romania shockingly did not qualify a team for the all-around. Russia and China appear to be the top threats to the U.S.
Chinese gymnast Shang Chunsong is one of the best stories in Rio. Growing up malnourished, Shang's mostly blind brother would carry her to school on his back through the mountains. Her dream in life was to use her gymnastics earnings to buy her brother a house, which she has done.
4. Swimming – Men's 4x100m Medley Relay
This is the final race of Michael Phelps' career.
The U.S. is 13-0 all-time in this race, and should continue that streak. A finals team of Michael Phelps, Kevin Cordes, David Plummer, and Nathan Adrian might feature four medalists in their respective events, something no country can match.
5. Basketball – Men's

The seventh edition of the Dream Team is young (only Carmelo Anthony is over 30) and the weakest on paper. Kevin Durant, the only top-5 NBA player on the roster, will have to carry the team to gold. Heading into the Olympic tune-ups, Coach K is 75-1 as national team coach, but I'm predicting the U.S. men lose a game, though not necessarily the gold medal game. The hypothetical team of Steph Curry, James Harden, Kawhi Leonard, LeBron James, and Anthony Davis sitting at home will be looking pretty good when the U.S. struggles to get past France.
There is no obvious contender to upset the Americans, who have rolled through their exhibition games. Spain has made then sweat in the last two Olympic finals, but they are missing their two best NBA players, Marc Gasol and Serge Ibaka. France has the most NBA experience but will be asking a lot from Rudy Gobert to combat the enormous size of the U.S.
6. Soccer – Women's
If you are wondering why women's soccer is ranked above men's soccer, ask yourself why Marta and Hope Solo are here but Messi and Ronaldo are not.
Frankly, the Americans could bring two teams and they would be favorites for gold and silver. But with tiny, 18-person Olympic rosters, anything can happen over a truncated tournament, even for a team hoping to win its 4th straight gold medal. Carli Lloyd was the star of the World Cup, but watch for a breakout turn by Crystal Dunn in Rio.
7. Soccer – Men's
A gold medal for the host Brazilians could erase (one percent of) the pain from the 2014 World Cup. Brazil has won silver three times, but never Olympic gold. Other contenders include reigning gold medal winners Mexico, World Cup holders Germany, and Euro 2016 champs Portugal.