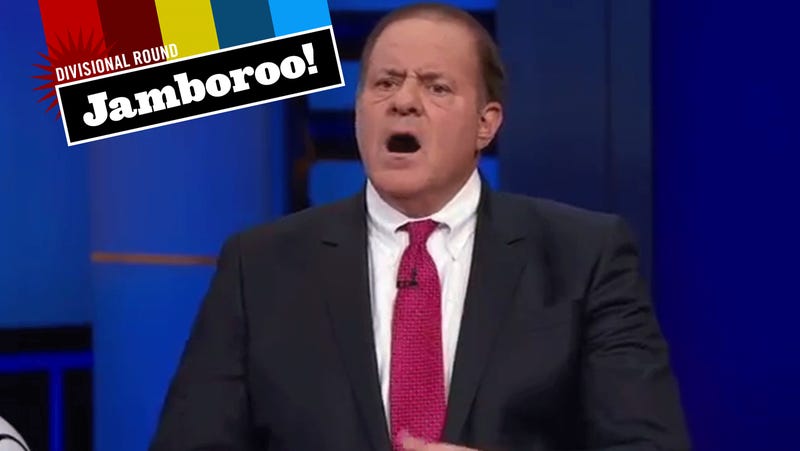 Drew Magary's Thursday Afternoon NFL Dick Joke Jamboroo runs every Thursday during the NFL season. Email Drew here. Buy his book here.

Chris Berman half-retired this past week and, with the announcement, there's been a parade of soft-focused tributes to a man who spent nearly every telecast referencing himself. There was even this oral history of Berman cobbled together by Peter King that is just as hackneyed and filled with meaningless drivel as any Berman TV presentation. Here's Stephen Jones of the Cowboys:
I started watching him in college. A giant in our game. A real game-changer.
Yes, very insightful. Glad they included that. And here's Mike Zimmer:
I started watching him when ESPN came on the air. I loved, "HE … COULD … GO … ALL … THE … WAY!"
Again, quality nuggeting. Finally, in an accidentally flawless summation of Berman's career, here's Mel Kiper Jr.:
I remember in one of the early years, Chris is eating a big tuna fish sandwich. He's got his earpiece out, and we're 10 seconds to air, out of the commercial. And I tell him we're going back on the air. He spits the tuna out, he's got mayonnaise on his cheek and he's like, "Welcome back to the NFL Draft!"
That's perfect. Just a talking mound of Hellmann's shouting over the airwaves. That's the definitive Chris Berman memory. Never mind that Berman is STILL going to be on television after this. And never mind that, for decades now, Berman has been an unwelcome presence during The Masters, the Home Run Derby, and virtually every other major sporting event that is not improved when you add in a bunch of Fred Flintstone farting noises. Berman was the heavyweight at ESPN, and he applied that weight liberally, muscling his way into any telecast he pleased, with little regard for continuity or, you know, viewer enjoyment.

But when you are a media person and you retire (even if you really aren't retiring), you still get your little Der2k J2t2r farewell tour, and you get people like Bill Polian saying this:
Boomer is in status, if not style, the Vin Scully of cable television and of the NFL.
No, Bill. No, that's grossly inaccurate. Every Vin Scully telecast was a goddamn snowflake: a master class in wit, storytelling, and understated delivery. By contrast, I could tune into Berman at any point in history and KNOW that, at some point, he would blare out THAHHHH RAIDEEHHHSSSSBURPFARTSQUISH. The set list was as reliable as a Men Without Hats reunion concert.
I have some Berman memories of my own. I do indeed remember watching NFL PrimeTime as a kid. I sat there watching games and stuffing myself with Cheetos and PB Maxes all day, and then PrimeTime was when all the gas bloat and self-loathing would come crashing down as it grew pitch dark out. "Wait, did I even go outside today? Christ." Chris Berman was the perfect avatar for that moment of crippling, football-induced depression. Yep, I remember him going "NFL Primetime is (monster voice) NEXXXXT" right before they showed the old timey production console graphics.
I guess you can call that a fond memory. It was certainly THERE. I remember they even gave his nicknames their own 30-minute show. It was called The Nickname Show.
But then, I also remember this:
And this. And this:
Oh, and of course I remember when ESPN settled a lawsuit with a makeup artist who accused Berman of harassing her. And I remember when Charlie Pierce profiled Berman in Sports Illustrated and we learned that he was so deep in the tank for the Niners that Eddie DeBartolo gave him a Super Bowl ring:
His very good friend Eddie DeBartolo Jr., once the owner of the 49ers out there in San Francisco, who's out of football now because he had to turn state's evidence against former governor Edwin Edwards in a political scandal that was messy even by the standards of Louisiana. In 1991 Berman accepted a 49ers championship ring from DeBartolo, only to return it after taking some flak for it, within and outside ESPN. "I know one thing," Berman says of DeBartolo. "The league misses him."
I guarantee you that Berman's still angry he didn't get to keep that ring. Oh, and he also said this to Pierce:
My job is different from the guys at the network who have to be pit bulls. I mean, I've got information that can sink countries. I just don't need to bury banana republics every day. It's not my M.O.
No, it certainly wasn't. Berman's self-appointed M.O. was to be the NFL's Head Chum, a job that has become hilariously outdated at a time when the NFL is receiving long-overdue scrutiny for the way it conducts business, from stadium issues to domestic violence to the ever-present specter of devastating brain injuries. Berman was never equipped to handle any of this shit. Talk to him about shady financing deals for stadiums and springs will come flying out of his brain. There was never much in the way of nuance to Chris Berman (takes one to know one, I know). His style never evolved. All you got with Berman was his constant assumption that you loved him. He declared himself the face of the NFL and never, ever let you forget it.
And he's not even gone! Look at all the mascot duties he's still gonna do!
Berman will continue to host ESPN's NFL PrimeTime highlights show from the field after the Super Bowl as well as the NFL Conference Championship games. He will also offer opinion and perspective on historical events in the NFL, including still appearing weekly on Monday Night Countdown. In addition, he will handle play-by-play for ESPN Radio during the MLB Divisional Playoffs and participate in ESPN's annual ESPYS Awards.
Christ. That's too much. I'm not gonna be able to relax now that I know that Berman could come back to haunt my television at any moment. One second I'm getting ready to watch some hot postseason highlight action. The next, I'm getting BACKBACKBACKed until my eardrums bleed. I need closure. I need to know when Chris Berman and his mayonnaise cheeks will be out of my life for good.
The Games
All games in the Jamboroo are evaluated for sheer watchability on a scale of 1 to 5 Throwgasms. And for the playoffs, I also pick the games, because I KNOW VEGAS. I'm tight with all the "sharps," as they are known to some.
 Five Throwgasms
Packers (+4.5) 28, Cowboys 26. The first man to reach Aaron Rodgers NEVER brings him down and I'm getting tired of it. When playing Rodgers, you should be allowed to conceal a foreign object on your person and then cripple him when you come within sniffing distance. Like, you know those clubs that kind of extend out, like a car antennae? The ones that henchmen in action movies whip out from inside their boots? I want to be able to use one of those on the field against Rodgers, particularly if he's about to throw another successful Hail Mary (God's perfect little PACKERS just have to have every goddamn miracle throw end in a completion, don't they?). I see no moral quandary with this.