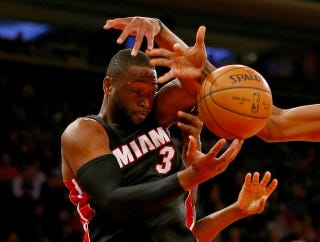 The first half of last night's game between the Oklahoma City Thunder and Golden State Warriors was the most entertaining stretch of basketball I've watched all season. It began with Kevin Durant raining fire on everyone's head, going 10-of-13 from the floor and scoring 30 points in 18 minutes before leaving the game with an ankle injury. (I remain convinced that he would have scored 150 if he hadn't gotten hurt.) It ended with Steph Curry doing that thing he does and erasing a 17-point deficit. The score was 65-63 in favor of the Warriors at half, and anybody watching the game probably felt the urge to sneak out for a cigarette during halftime.
Before the Dubs and Thunder tipped off, Anthony Davis went out and scored 30 points, grabbed 14 rebounds, and blocked six shots against the Houston Rockets. It was the the third time in the last two seasons that Davis has thrown up a 30-10-5 game, something nobody else in the league has done even once over that same time period. On Wednesday, the Grizzlies and Spurs treated us to what is probably the game of the year so far, a triple-overtime dick-shitter that featured two crazy-ass buzzer-beaters.
All of this is to say: basketball in the Western Conference is fun! You know what isn't fun? Basketball in the Eastern Conference, which needs to just go ahead and get the fuck out of my face already.
By my count, there are five fun basketball things in the Eastern Conference: the Cleveland Cavaliers, the Toronto Raptors, John Wall, Giannis Antetokounmpo, and the very real possibility that Josh Smith will cause Stan Van Gundy to burst into flames in the middle of a game. The rest of the damn conference is a morass of crap basketball fitting descriptions that range from "competent but as inspiring as a dish rag" to "Oh my God, what is this? Please turn off the TV right now."
The Godless and miserable 76ers are out there slogging through the second season of their self-imposed lockout; the Pacers are attending their own wake every time they take the floor; the Pistons are just as bad as the 76ers but are actually trying to be good; and the Hornets have transformed from a spunky playoff team that was fun as hell to root for into a sluggish crew that is being steered toward the edge of a cliff by their psychotic free-agent signing.