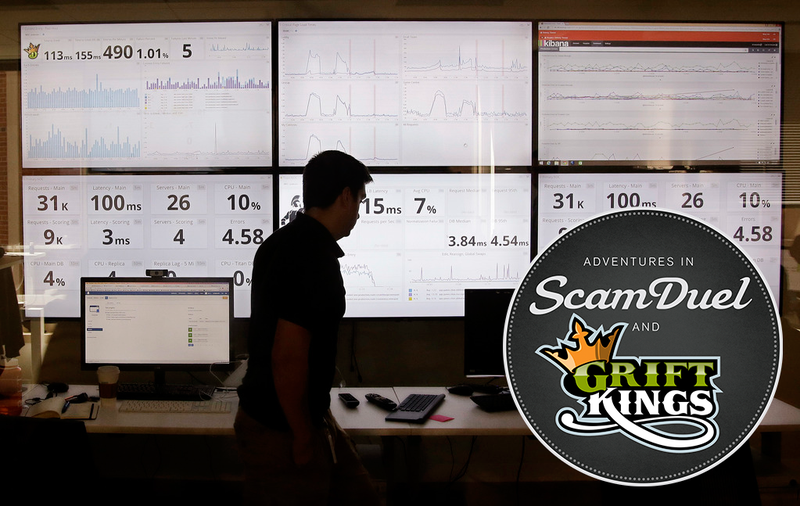 Daily fantasy sports should have been a great thing. A form of betting just shiny and different enough from handing a brown bag of cash to a guy named Fingers at the local dive bar to be treated as respectable enterprise, it had the potential not just to make insane amounts of money, but to change the debate about gambling in this country. Over the course of just a couple of days, though, what started as confusing claims making the rounds on enthusiast sites blew up to the point where New York's attorney general announced an investigation, and the industry now looks like Wile E. Coyote after he's run off a cliff but before he's looked down. What happened?
Make no mistake: if the accusations are true, this is a massive scandal. But it's also a slightly opaque one, so the particulars are worth going over. It's been likened to insider trading, but that's not quite right. What the employees of DraftKings and FanDuel are accused of doing is using information obtained through their jobs, but unavailable to the public, to increase their chances of winning on the competing sites.

Winning at fantasy sports isn't about drafting the best players; it's about getting the best values, because users have a limited payroll to build their teams. Those values are determined by in part by popularity: players drafted to the most teams will have the highest price tags. But Ethan Haskell, a midlevel employee of DraftKings, had access to data on which players were started most often on DraftKings. Assuming that those numbers are roughly the same on FanDuel (a safe assumption), Haskell would have been able to figure out which players offered the best values there, and which less-drafted players would have set his lineups apart from the pack. Haskell the won $350,000 in an NFL Week 3 contest.
(The game has gone both ways: FanDuel confirmed that its employee, Matthew Boccio, has played on DraftKings. Statements from both companies claim that neither employee made use of their privileged information.)
Using insider information to put the public at a disadvantage would be nothing short of fraud—and that's the exact word New York's attorney general said he'd be looking for when announcing the investigation. And it's almost certainly not limited to a small number of rogue employees. On Outside the Lines, Darren Rovell passed along a statement from FanDuel saying that 0.3 percent of the total money won on its site has gone to DraftKings employees. Given the amount of money in play and the size of DraftKings' staff, that's an enormous, anomalous amount of money—well into the millions of dollars—won by people who may have access to information not available to other players. And it doesn't begin to count any friends, family, and associates of employees who they could have shared that information with.
DraftKings and FanDuel released a joint statement saying that they have policies and safeguards in place to prevent fraud, and there is absolutely no reason to believe them, especially because those safeguards have allegedly been in place all along. There is no oversight and no regulation, and users are forced to trust employees no more qualified than those at any startup. One person who interviewed to be a recruiter at DraftKings told us that the company's anti-fraud department consists largely of young, inexperienced employees fresh out of undergrad. "If they can use Excel and fog a mirror," this person says, "they're qualified."
There's a simple way to fix all of this—strong federal regulation to insure things stay on the up-and-up. But there's a problem with that. By definition and by choice, daily fantasy sports can, as of now at least, only exist outside of regulatory scrutiny.
"Daily fantasy is not gambling." That's what the companies have been insisting from the very beginning, and—legally, at least—they're correct. Fantasy is specifically separated from sports betting by the Unlawful Internet Gambling Enforcement Act (UIGEA) of 2006, which defines it as a contest that
"reflect[s] the relative knowledge and skill of the participants and are determined predominantly by accumulated statistical results of the performance of individuals (athletes in the case of sports events) in multiple realworld sporting or other events."
The act, quietly tucked into a bill about seaport security, was lobbied for by counsels and executives for all major sports leagues, because they recognized how much money and interest they gain thanks to the existence of fantasy sports. But daily fantasy, with the volume and speed of wagering that it offers, wasn't considered at the time.