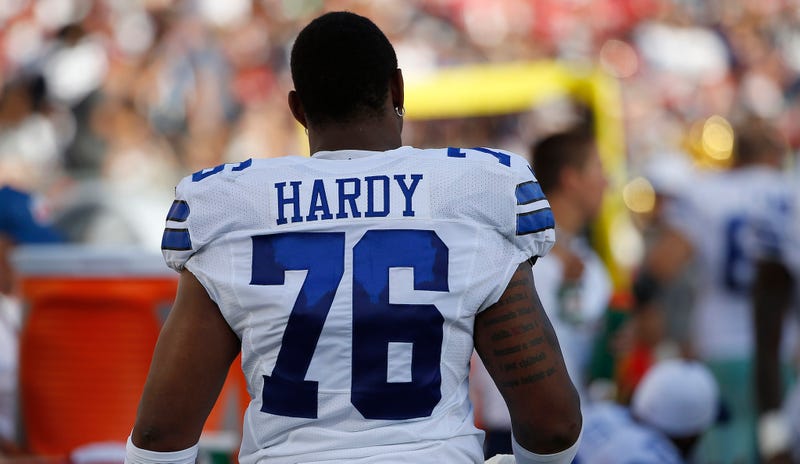 Last year, the National Football League faced perhaps the worst public-relations crisis in its history. Even those who couldn't care less about football knew all about the league's disastrous handling of a domestic violence case involving Baltimore Ravens star Ray Rice cold-cocking his future wife inside an Atlantic City elevator, then dragging her unconscious body into a hallway.
Even as public outrage focused on Rice, though, the league and commissioner Roger Goodell were quietly dealing with an even more appalling and even less ambiguous domestic violence scandal featuring another All-Pro player, if one that got far less attention. It wasn't until well after the Rice scandal had come, gone, and devolved into an image-rehabilitation tour, though, that the commissioner even laid down his verdict on Greg Hardy, issuing a 10-game suspension that was later, inevitably, reduced to four.
What happened? As with the Rice case, which changed the face of the NFL after TMZ published video of him attacking his fiancée, this one was largely about the visuals—in this case, a set of photographs said to show that Hardy's attack on his girlfriend was every bit as bad as police reports suggested it was. The difference was that they never came out.
The NFL acquired them, though, and the process by which they did says a great deal about the way the NFL operates in the post-Rice era. In public, the league claims that its main interest is in justice; in private, its actions suggest an intense desire to avoid being humiliated—or surprised.
The investigators
When Hardy, a defensive end then with the Carolina Panthers (and now with the Dallas Cowboys) was arrested in May 2014, it was immediately clear that the case had the potential to be horrific. Hardy's girlfriend, Nicole Holder, said in a filing for a restraining order that he had choked her, threatened to kill her, slammed her against a futon, and tossed her onto a couch covered in guns. There was a witness who heard Holder yelling, and there was evidence: Holder's medical records, a list of weapons recovered from Hardy's home, and dozens of photos of Holder's injuries. Holder testified in court, saying, "I was so scared I wanted to die." Mecklenburg County Judge Rebecca Thorne Tin found Hardy guilty last July, though the verdict barely registered amid the summer of outrage after the NFL's serially botched handling of the Rice case.
North Carolina law allowed Hardy to immediately appeal the verdict and ask for a new trial, this time with a jury. The second time around, Holder refused to testify, reportedly after Hardy paid her in a settlement. This past February, the charges were dropped. Now Hardy was a free man, and the case nobody had paid much attention became a storyline unto itself. After the Rice fiasco, Goodell promised to get tough on domestic violence, unveiling a series of harsh-sounding punishments (that still left him plenty of discretion) and vowing to create an armada of NFL investigators to suss out the truth. It was great PR, but could he actually pull it off?
To decide how to discipline Hardy, the NFL decided that it needed to see photos of Holder's injuries, photos that weren't part of the police file. (A non-law enforcement source gave them directly to prosecutors, complicating the question of whether they are public records). This NFL request to see them came despite the fact that the league had already been granted access to other photos in two separate police files. As in the Rice case, the NFL knew the facts—a woman said a player beat her up, and nearly all the evidence backed her claim—but appeared reluctant to believe her without every possible visual confirmation. Perhaps the NFL wanted to be thorough; an at-least-equally likely explanation is that Goodell wanted to make sure his ruling wouldn't make him look bad if these photos got out.
What follows is a glimpse at those negotiations, via emails obtained through a public-record request made to the D.A.'s office. The emails don't give every twist and turn of the talks—some refer to phone calls at which unknown details were discussed—but they do offer insights into the real workings of the NFL investigatory apparatus.

Despite Goodell's mantra that the NFL "can no longer defer entirely to the decisions of the criminal justice system," this investigation, in truth, was highly reliant on that system. In trying to lay hands on the potentially damning photos, the league had nothing more than what an everyday blogger has at her disposal: harsh words and public-records requests. A league known for its deliberate impenetrability draped itself in the language of openness and transparency. But because the NFL doesn't actually care about those things, it disavowed them within 24 hours of the district attorney demanding full secrecy as a condition of granting access to the pictures. What the Washington Post called the NFL's "intricate and largely secretive three-layered security force" last year comes across, yet again, as rather useless.