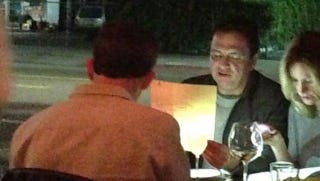 Correction (4:04 p.m.): Turns out there are two Genesis Communications in the radio world. Jay Mariotti actually partnered with the one that owns and operates six stations in central Florida—not the one affiliated with Alex Jones and his ilk. Our bad. Fuck Mariotti anyway.
The day we all have not been waiting for has finally arrived: Jay Mariotti is back in the game of hot sports takes. He's got his own little blog that will also be home to his own little radio show, and he's proudly doing it with the backing of a radio network that "was developed to promote the importance of investing in precious metals" owns and operates six stations in central Florida.
Mariotti, who pleaded no contest two years ago to avoid going to trial on charges including assault, domestic violence, and stalking, bragged about his new playpen in an email this morning to the Sherman Report.