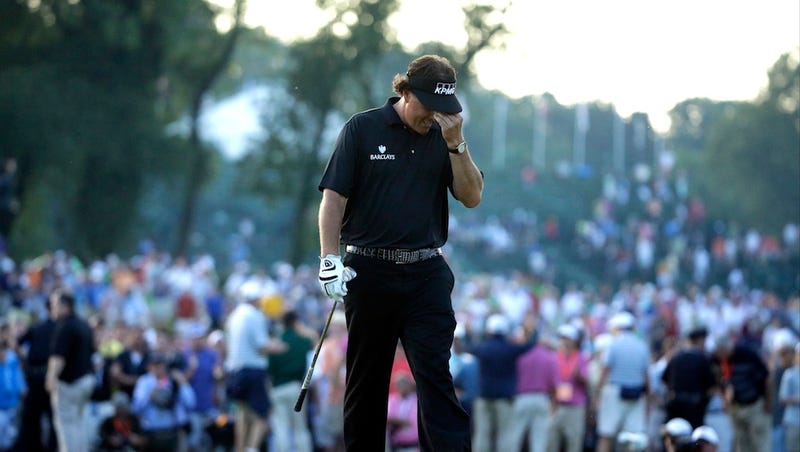 Something amazing happened at Merion yesterday. Phil Mickelson's U.S. Open history was summed up in a single rejection:
So when Rose was put back in the room, someone left the door open. Up the pathway trudged a beaten Mickelson. He walked up to the patio, asked someone where he needed to go and was directed to go straight. Mickelson walked to the open door, expecting to be allowed in.

A man in a red shirt shut it in his face.

"Sorry," a USGA official said. "That's where the champion is."
"Sorry, that's where the champion is." Life can be so literal sometimes.
It was Phil's birthday, because of course it was. Yet another second-place finish at the Open, his sixth dating back to 1999. It's hard to call this one a choke, even though Mickelson was leading coming into Sunday, and as it turned out, all he needed to do was stay even on the day. Hell, he could have matched his tournament-worst +2 from Friday and it would have been good enough for a playoff.
It didn't feel like a choke because the choke came so early, with a double-bogeys on three and five. For the majority of his round, a couple hours' worth, it felt like an attempted comeback, always on the verge but never quite getting going. The miracle eagle on 10. A birdie putt on 12 that Mickelson was convinced was going in until it didn't. On 13 he skyed it over the green for bogey—he would say later he pulled the wrong wedge. On 14, a long putt to save par. On 15, another errant wedge. On 16, another would-be birdie putt that just wouldn't move right. Somehow, Mickelson's final round managed to be as whiplash-inducing as a roller coaster while still being as inexorable as a log flume.