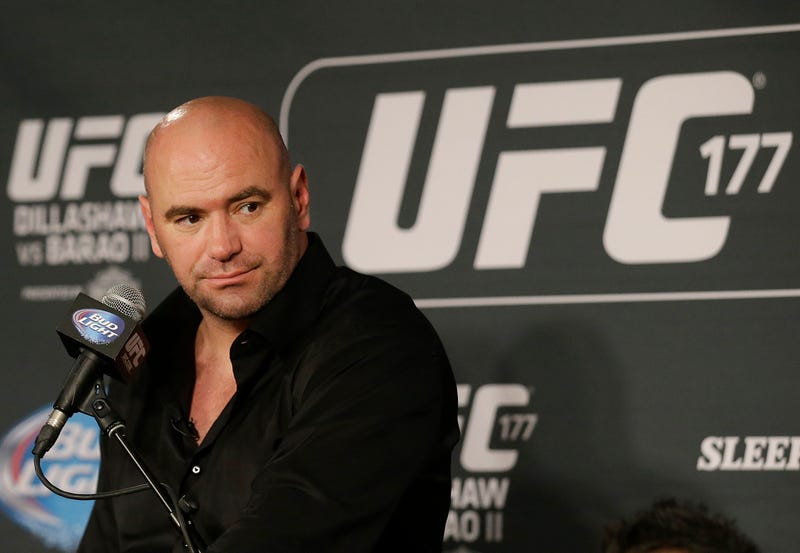 On Thursday, UFC 177 was positioned to be a terrible pay-per-view event, just really bad by any objective standard. At the risk of being accused of doing what promoter Dana White calls "the most disgusting fucking despicable thing," I would have discouraged fans from purchasing it, if asked. It was thin from top to bottom, lacking in even second-tier talent and star power, and clearly a tangible manifestation of how the UFC's sprawling expansion and oversaturation have stretched it beyond its limits. By Friday evening, things had somehow gotten much, much worse.
First, it was announced that prospect Henry Cejudo would be forced to withdraw from his UFC debut due to "medical reasons," and that his undercard bout against veteran Scott Jorgensen would be cancelled. Cejudo is 27, a gold medalist in freestyle wrestling at the 2008 Bejing Olympics, and has been a hot commodity since he transitioned to MMA in 2013 and began to rack up a 6-0 record. He's also been a consistent source of controversy, weight issues, and scheduling problems. In the last year he pulled out of at least three planned Legacy Fighting Championship bouts and missed weight twice, forcing catchweight fights in two engagements that were slated for flyweight.
It would turn out that Cejudo's medical reasons were once again connected to his attempts to make the 126 pound limit. This did not shock anyone. After reportedly getting down to 130 pounds Thursday night from 137 on Tuesday, Cejudo began to experience cramping and nausea as he continued to cut on Friday morning, and his team and UFC officials determined that it would be unsafe for him to cut any further weight.
The other shoe dropped a short time later, and it landed with a sick, booming thud.
Renan "Barão" do Nascimento Mota Pegado was being removed from the card's main event, a bantamweight title rematch against champion TJ Dillashaw, due to "feeling ill" during his own weight cut. As scary as this was on the surface, the details, reported by Guilherme Cruz, painted an even more concerning picture:
According to a release provided to MMAFighting.com from Nova Uniao, Barao felt dizzy when leaving the tub in his hotel room and hit his head against the wall. The bantamweight passed out and was rushed to the hospital.
Later, Barão insisted that nothing was wrong with his cut, and that he had just passed out, probably from standing up too fast. He also stated that he regularly cuts around 22 pounds to get down to 135.
With just over a day's notice, and with no intention of canceling the show, the UFC made some sour-ass lemonade. Joe Soto, a talented but relatively unknown product of Bellator and Tachi Palace Fights who was preparing for his UFC debut against fellow unknown Anthony Birchak (in which he was not favored) on the undercard, was gifted a career-changing opportunity and promoted to the top of the card to face Dillashaw for the belt. After closing as one of the biggest championship fight underdogs in UFC history in his first fight upset versus Barão, Dillashaw would now be one of most favored champions ever against Soto.
Soto would ultimately put on a respectable showing, lasting until the final stanza and regularly stinging Dillashaw with counter shots, especially the overhand right. As admirable as it was to perform like that against an opponent of that level on a little over 24 hours notice, though, he probably lost every round en route to ending up unconscious against the bottom of the cage. As time ticked down, the champion eventually stopped him with an head kick that flipped his reset button, followed on with a drilling left hand. The rest of the card was just about as good as it could possibly have been, with several flashy finishes and fairly high activity fights, but the realistic ceiling here was really low, and this just wasn't anywhere near $55 HD pay-per-view quality.
MMA rankings are, on the whole, mostly worth ignoring, but the UFC's own rankings, done via a poll of the media, paint a pretty clear picture. This entire card only contained two fighters ranked in the top 15 in their division: Dillashaw, the men's bantamweight champion, and Bethe Correia, ranked the 10th-best challenger in the women's bantamweight division. Only two of the 144 ranked fighters in nine divisions appeared on this event, and it was readily apparent in the quality of the fights. This sport is just not yet deep enough for a card filled with fighters ranked 20th or 30th in the world to generate consistently top quality professional fights. It's one thing to run such a card on cable on a Wednesday, and a completely different story at a premium price on a Saturday night. The difference was stark when this card was juxtaposed against the excellent—and actually PPV-caliber—UFC 178 lineup that was previewed mid-show.
This is where we've landed. Fundamentally, the most detrimental impact of the UFC's much-discussed flooding of the market is that it's pulling down the baseline level of quality, increasingly including the ostensibly top-grade product on PPV and Fox. This is not to say that every card needs to be filled with champions to be entertaining, but the level of the fighters makes a huge difference in the product, and at MMA's current level of development as a sport, the top tier is very shallow.