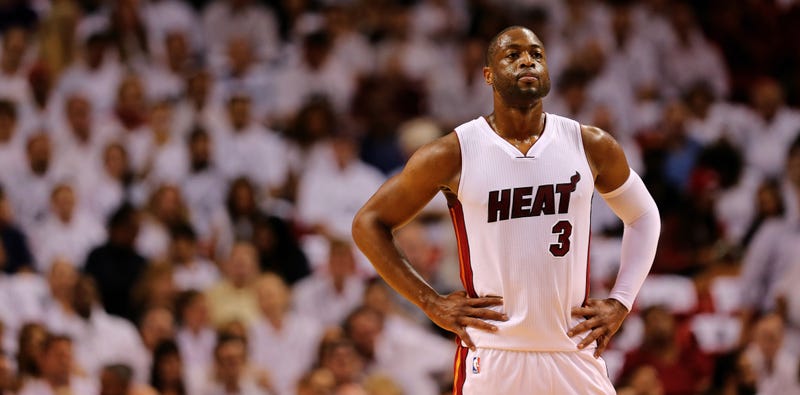 With NBA free agency nearly a week old, the most intriguing wild card remaining is Dwyane Wade. Although everybody assumed him returning to the Heat was merely a formality, contract negotiations have dragged on, and according to Miami Herald Heat columnist Ethan Skolnick, the relationship between Wade and the Heat is "at an all-time low." So how the hell did it get there?

Wade became a free agent for the first time in 2010, and was ready to get paid. He had previously signed a max extension with the Heat that kicked in at the beginning of the 2007-08 season, but rookie extensions and full six-year max contracts are very different animals.
Instead, Pat Riley worked miracles and convinced both LeBron James and Chris Bosh to come to Miami. To make this happen, however, Wade had to leave $15 million on the table (as did James and Bosh) to make everything work with the salary cap. Their contracts were also slightly bigger—a couple hundred thousand dollars a year—meaning Wade wouldn't be the highest paid player on the team.
Four years and two championships later, Miami's Big Three all opted out of their contracts and became free agents. James returned to the Cleveland to Win One For The Land, and Bosh re-signed a monster five-year, $118 million max deal with the Heat. Wade, who had opted out to facilitate re-signing James, once again left money on the table, this time to help sign Bosh and free agent Luol Deng. He ultimately agreed to a two-year, $31.1 million contract, after having opted out of the final two years and $42 million left on his old, already below market deal.
A year later, the Heat and Wade danced again. He opted out of his two-year deal, and was reportedly looking for somewhere in the neighborhood of a three-year, $45–$50 million contract. Up to then, he'd left at least $20 million on the table over the past five seasons to give the Heat the flexibility to sign free agents, and thought the Heat would honor that sacrifice with a large financial commitment.
But the Heat, seeing a declining 33-year-old with knee issues who hadn't played 70 games in a season since 2010-11, didn't want to commit long-term. In the end, the two sides settled on a one-year, $20 million deal, and tried to spin it as a win-win for both parties. But here's what we wrote at the time:
So what happened here is Dwyane took a very big risk by going into a one-year deal with no cover fire, and had to precisely because the Heat think he's too risky over that year to commit to the next.