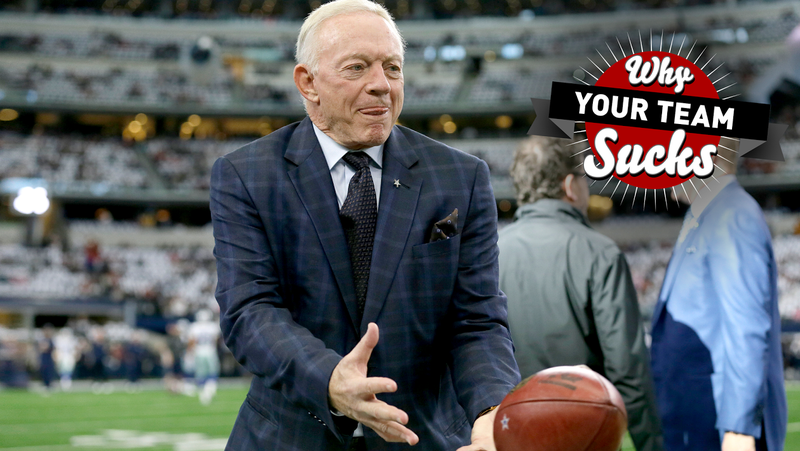 Some people are fans of the Dallas Cowboys. But many, many more people are NOT fans of the Dallas Cowboys. This 2016 Deadspin NFL team preview is for those in the latter group. Read all the previews so far here. And buy Drew's new book here.

Your team: Dallas Cowboys
Your 2015 record: 4-12. Karma-wise, 4-12 is the ideal record for any team that signs girlfriend-tosser Greg Hardy and then bends over backwards to cover for him as he jacks off at his locker to Gisele Bündchen, shows up late to practice, drives away from media scrutiny in a white Ferrari, gets in public fights with the coaching staff, and puts more effort into his stupid eye black than into rushing the passer. You would think it's impossible to shame a team owned by Jerry Jones, but it finally happened last year. I'm almost disappointed that they cut him loose. I was hoping (expecting) that they'd double down and make him player/defensive coordinator.
Outside of the Hardy fiasco, last season was notable for the following things:
1. Tony Romo breaking his collarbone and then being rushed back by Jerry Jones just in time to break it AGAIN.
2. Winning a game because DeSean Jackson ran backwards.
3. Eli and Old Man Coughlin butchering the clock against them in Week 1.
4. This tweet:
(NOTE: Brandon Weeden was later cut by Dallas, picked up by Houston, and somehow started a playoff game. Correction: Brian Hoyer started that playoff game. That's how much Weeden sucks.)
Your coach: Princeton Boy! BORRRRRRING. Jason Garrett is the Reince Priebus to Jerry's Donald Trump. Watch him sit by helplessly and try to retrofit his coaching style to whatever management demands. "Oh? Oh, you want a Wildcat goal line package for Zeke Elliott? Well I think the problem with that is (SLAPPED VERY HARD) I'll do it right away, sir!"
This is a team still caught between the lunacy of Jones and the relative stability of his son, who now runs the day-to-day operations. Imagine the number of times that Garrett has had run to Stephen Jones after getting wind of Jerry's idea to have Chris Christie sit in on offensive line meetings. It has to be well into double digits by now. The old man is like a rabid hyena locked in a cage, scratching at lock and just DYING to get out so that he can sabotage his own team, drill for oil in your pool, and fuck your niece. Jerry's become so antsy that he has to fuck with OTHER NFL teams in order to get his power fix. If his son won't let him sign Johnny Manziel, he's gonna move the Rams to LA instead. I can't believe this wildcatting shit-for-brains is the shadow dictator of the entire league.
Your quarterback: Tony Romo… for one month! Yes, you get one month of playoff aspirations before this happens again: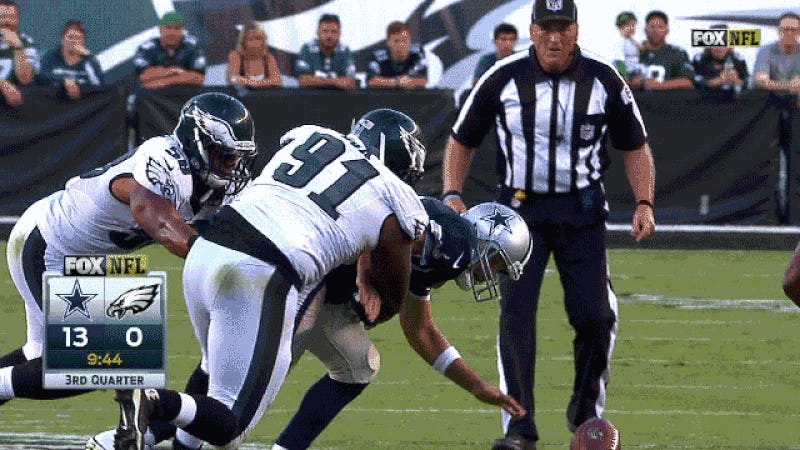 With a withered spine and a collarbone that's been reconstructed by Stark Industries, Tony Romo's career is all but over. It should be a felony to let him take the field ever again. Someone is gonna rip out his scapula and stab him in the face with it. I can't bear to look. Get away from football, Tony. You've got a family and a decent golf game. End this madness. Go retire to a life of unfathomable leisure before someone tears your fucking head off out there.
Once Romo hangs up his loosely fitting jersey for good, your backup options are Kellen Moore, seen here auditioning for the lead role in Simple Jack 2, and Mississippi State legend Dak Prescott, who was acquitted on DUI charges just this week. Oh wow, a famed college player with legal issues? He'll fit right in with this band of idiots.
What's new that sucks: Hey, Darren McFadden broke his elbow! And you'll never believe how! No really, you won't believe it at all…
Actually, you CAN make it up, especially if you were piss drunk when you hurt yourself. But don't despair, Cowboys fans. Your team drafted human rocket sled and possible woman-beater Ezekiel Elliott to run the ball and spiritually fill the void left by Hardy's rifle pile. AND you signed Alfred Morris! Why sign Alfred Morris? Look man, you're gonna be playing Rex Grossman from off the street by Week 8. You'll need all the backs you can get, and preferably ones that are NOT supervillains and/or on the verge of getting slapped with a 783-game suspension.
Also, the Double J drafted a guy who just had his leg die seven months ago, and he did it just one year after drafting Randy Gregory, who is already on the verge of washing out of the league. What bargains. As always, the Cowboys are less notable for their actual draft choices than the players Jerry Jones wanted to draft but did not. This year's Double J wet dream was QB Paxton Lynch. In an alternate dimension, Jerry drafts ALL the quarterbacks. A team of fifty quarterbacks is unbeatable!