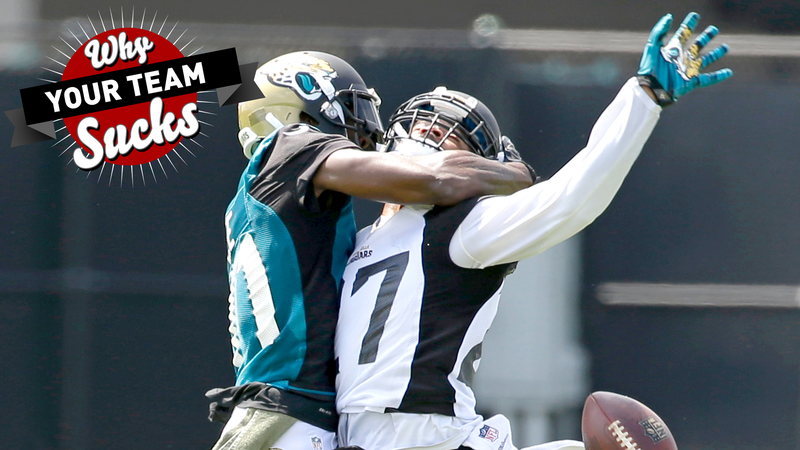 Some people are fans of the Jacksonville Jaguars. But many, many more people are NOT fans of the Jacksonville Jaguars. This 2016 Deadspin NFL team preview is for those in the latter group. Read all the previews so far here. And buy Drew's new book here.

Your team: Jacksonville Jaguars.
God, I love that woman. Someone make HER the coach. She ain't gonna be playin' by the rules.
Your 2015 record: 5-11. The most promising 5-11 team in football!
By the way, the only reason this team didn't go 4-12 is because the refs gifted them a win against Baltimore—a win that the NFL openly admits never should have happened. So here we have a four-win team that can't play defense, turns the ball over with impunity, and only scores in garbage time. WHAT A BRIGHT FUTURE THEY HAVE. You can always get away with being terrible so long as you have a young roster. "Well, they're a group of uncoordinated amputees, but they're ALL under age 22!" The only good news here is that you'll never have to watch these assholes play because the NFL is gonna stream all their games exclusively on Tidal.
Your coach: Gus Bradley, who has lost 11 or more games in all three seasons as head coach. This team gave up 30 or more points in half their games last season. What does this asshole even DO? Is he fishing all season long? WHAT IS THE POINT OF GUS BRADLEY? No wonder this team is better at blocking each other than the opposition:
Coming off last season's miserable showing, Bradley saved his own ass by canning defensive coordinator Bob Babich, elevating assistant Todd Wash, and digging up Monte Kiffin from the tomb his son built for him using funneled booster money. He also got handed $42 million worth of Malik Jackson. It won't help. They're still gonna give up 860 rushing yards a game somehow. Bradley is a shit coach who can't put together a good defense on his own, and the Jaguars won't realize it until Year 11 of the rebuilding process.
Your quarterback: Blake Bortles. The good news is that Bortles broke the saddest team record in football last season. Not too shabby for a 46-year-old. The bad news is that Bortles led the league in both interceptions AND fumbles. You tend to rack up lots of passing yards when you've already put your team in a 35-0 hole. I'm not giving this man praise when, football-wise, he's the pleasant version of Jay Cutler.
What's new that sucks: Oh, look! They hurt another draft pick! Yes, cornerback Jalen Ramsey was a Jaguar for all of three seconds before God reached into his knee and shredded his meniscus by hand. If this team ever drafted me, I would go hide in a fallout shelter for two decades to avoid some kind of horrible garbage disposal accident. They are the Final Destination of football teams. Good thing Ramsey, who is back out on the field, knows about the role proper nutrition plays in the rehab process…
Jesus. That's a real True Detective TV dinner right there. The Jaguars have become so adept at hurting their own players that they now draft players who are PRE-injured (Myles Jack), so that they don't have to worry about them ever being healthy. As you can see, last year's top overall pick, Dante Fowler, has already become quite good at watching things from the sidelines…