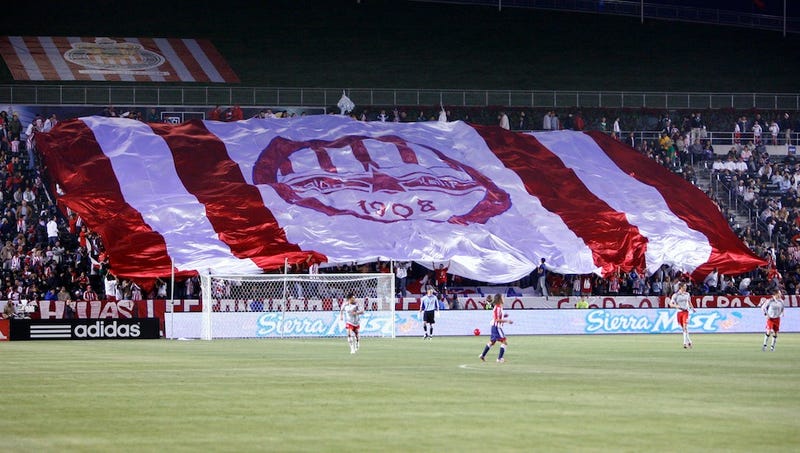 Two former coaches for MLS side Chivas USA's youth academy have filed a discrimination lawsuit against the club, claiming they were fired because the team wanted to purge all employees who "were neither Mexican nor Latino."
Chivas USA began play in 2004, as the MLS arm of storied Mexican club Guadalajara, and has spent its existence as Los Angeles's second team trying to appeal to the region's Latino population. There was reportedly a renewed push this offseason for a distinct Latin identity, and that appeared to manifest in a series of trades that some pundits called a "Gringo fire sale."
New Chivas Manager Jose Luis Sanchez Sola says the moves were made for soccer reasons and not based on ethnicity. But just one of the 14 players cut loose has Mexican nationality while 10 of the additions are either Mexican-born or have Mexican parents, making them eligible to compete for both Chivas USA and Chivas de Guadalajara, which has never used a non-Mexican player in its 107 years.
In a lawsuit filed yesterday in Los Angeles County Superior Court, Ted Chronopoulos and Dan Calichman claim they were fired in March "because they were neither Mexican nor Latino." Both former MLS players who saw brief action with the USMNT, Chronopoulos was the director of Chivas USA's youth academy, and Calichman the head coach of Chivas's U18 team.
According to the suit, when Jorge Vergara (the owner of Guadalajara) obtained full ownership of Chivas USA last year, he immediately set about transforming it into a Mexican side. At a meeting in November, the suit claims,
Mr. Vergara brazenly announced that all non-Spanish speaking employees would be fired. He asked, publicly, for those employees who were able to speak Spanish to raise their hands (he initially asked the question in Spanish and then repeated it in English). He then asked employees who spoke English to raise their hands. After publicly identifying those employees who did not speak Spanish, he announced that those employees who did not speak Spanish would no longer be able to work at CHIVAS USA. As he further stated, "If you don't speak Spanish, you can go work for the Galaxy, unless you speak Chinese, which is not even a language."
A month later, Chronopoulos claims he was instructed to compile the ethnic backgrounds of all of the academy's players and coaches, "specifically...who was Mexican or Mexican-American and who was not."
The coaches say they filed formal complaints of discrimination in January, and were invited to a meeting with Chivas USA President Jose David. The suit claims Davis told them that he and Vergara were taking the team "back to its Mexican roots."
The two were told not to report to work while the discrimination claim was pending, and Calichman claims the club gave him an offer: resign, absolve the club of liability, and he would receive two weeks' severance pay. He refused, and in March the two were fired in a letter accusing them of "demonstrating unprofessional conduct that created an unsafe work environment."
The full lawsuit is below.