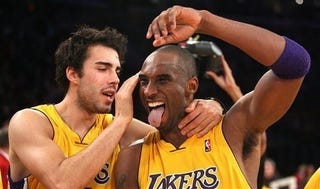 Because no one reads the newspaper, and SportsCenter's anchors are too perky for this early in the morning, Deadspin combs the best of the broadsheets and the blogosphere to bring you everything you need to know to start your day.
• Florida crushes Cincinnati to take the Sugar Bowl. "If the National Championship was the Father, and the Heisman the Son, this is a pretty solid Holy Ghost," Tim Tebow was certainly not heard to remark. [Miami Herald]
• Broncos' coach Josh McDaniels announced he will bench Brandon Marshall for Sunday's playoff gasp against the Chiefs, while questioning his star receiver's toughness and commitment. An offseason trade to the Bears for Johnny Knox now seems all but inevitable. [CBS Sports]
• Kobe drains a three at the buzzer to beat the Sacramento Kings. And in more good news for the Lakers, Ron Artest should be back early next week after his mysterious concussion-inducing fall at his home on Christmas Day. 5 to 1 odds he fell down the chimney. [ESPN/Canadian Press]
****
So - have those Christmas bills started coming in yet? I guess you'd best pay them. What's that you say? You play for the Edmonton Oilers hockey club? Oh. Never mind then.*
*Foreshadowing first post alert!