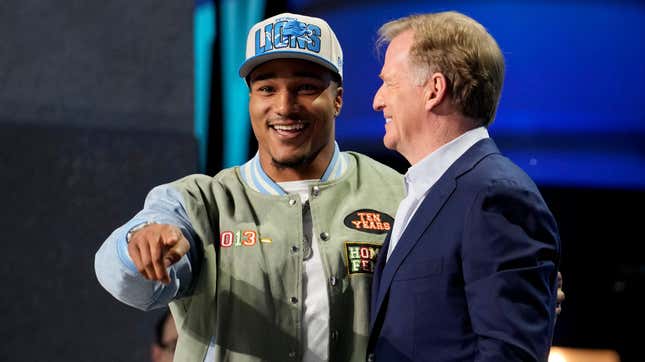 When you have as many picks in the first three rounds of the NFL Draft as the Detroit Lions did — six in all — it's easy to wager them like house money. Reach on a second-round running back at No. 12? Sure. Take a linebacker who wasn't predicted in the first round of any of the 38,000 mock drafts? Sign me up. How about a QB who won't see the field until he's 26 when you already have Jared Goff? Hendon Hooker c'mon down.
I was depressed, but then I found roofball
I know a lot of experts hate what Lions GM Brad Holmes has done, but I don't. If you have half a dozen shots at it, take a few wild hacks to try to hit a home run or two. What're they going to take six defensive linemen and cornerbacks? Detroit spent liberally and still filled needs.
It may be a mixed bag, but there's still a lot to unpack
In the second and third rounds, the Lions took Brian Branch, a safety out of 'Bama, and Brodrick Martin, a defensive tackle from Western Kentucky. They should plug holes in a defense that had quite a few a year ago, adding a guy at every level on that side of the ball. They clearly had targets in mind, and didn't care what a bunch of pundits thought about it.
We get so flustered by a GM bucking groupthink that the response is always, "Well, they could've gotten X later, so it's just bad value this high is the draft." My response is, screw your big board.
Jahmyr Gibbs was the best running back I watched in college football last year. He's not the pure runner that Bijan Robinson is, yet he's better equipped for today's NFL. I understand the confusion after the David Montgomery signing because that's a crowded backfield. (Editor's note: They could trade D'Andre Swift.)
[Updated] The Lions traded Swift to the Eagles, according to Adam Schefter.
However, all you have to know about Gibbs is he was the best skill guy at Alabama last year, and it wasn't even close. He's the kind of player who turns dump-off passes into touchdowns, and regardless of where they could've gotten him, he has first-round ability.
Holmes also was able to replace T.J. Hockenson with a tight end out of a school that's produced a lot of good ones lately in Iowa's Sam LaPorta. Detroit was one of the best offensive clubs in the NFL a season ago, and now they have an abundance of playmaking alongside Amon-Ra St. Brown, D'Andre Swift, and Jameson Williams (when he's back from suspension).
My approach to roster construction is to build off of what you do well, and as odd as it sounds, I trust Detroit will get the most out of Gibbs and LaPorta because that team can move the ball. I like the Hooker pick for that very reason.
If QB development is all about the situation…
During the college football regular season, the Tennessee quarterback went throw-for-throw with Bryce Young, the No. 1 overall pick, and it was the Volunteer who came out on top. While Hooker may be a late bloomer, the knock that he was in a gimmicky system is asinine.
The strides made in two years under Josh Heupel speak to Hooker's understanding of the position, and it wasn't like he was ad-libbing off of athletic talent. There was some of that, sure, but quarterbacks need to have a keen sense of the game and playbook to run an offense at breakneck speed while also executing it at a high level.
You don't do what Hooker did in the SEC and suck at football. This isn't a product of Mike Leach (RIP), and even if it is, Gardner Minshew is a solid backup. The number of times ESPN's panel said that a QB's development is dependent on the situation has to mean it's true. Ipso facto this is a great landing spot for Hooker. There's no pressure to start right away, which he can't do to begin with, so he can take his time rehabbing, learn from the sidelines, and then get a shot at Goff's job when the veteran inevitably butts up against his ceiling. (Editor's note: Goff is scheduled to become a free agent after the 2024 season.)
Who cares what the draft report card says? A lot of those D's and F's are handed out by failed GMs, so fuck 'em. The only thing that matters is how the players perform, and say the Lions hit on 50 percent of these six guys, that's still a pretty damn good clip for any front office.