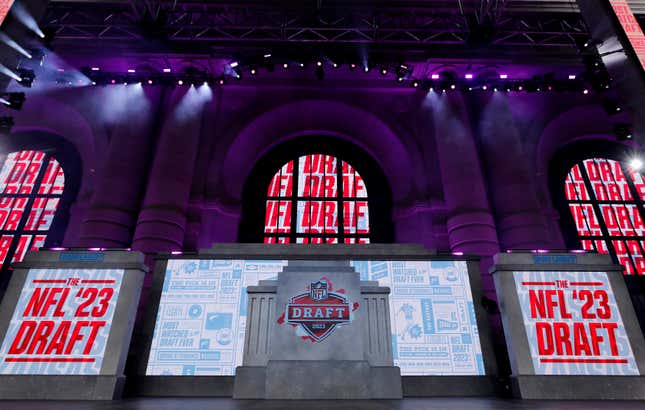 Welcome to the Deadspin 2023 NFL Draft tracker. If you love the NFL, but hate sitting through the NFL Draft, you've come to the right place. Maybe you're out playing pickleball, or you can't stand Roger Goodell, or the annual traditions of super-cringey interviews with players and family put you off.
Either way, we'll be here tracking both the picks and the drama all throughout Round 1. Make sure to check back!
Updates (latest at top):
Kansas City has officially ruined "Fight for Your Right to Party." CRINGE.

Goodell loves all the players so much on Draft Night. Not so much later.
"This city of Kansas City."

Have we ever seen a shirtless pic in a video package before?
Jerry Jones' lair is straight up the Simpsons' take on Republican National Headquarters.
He's a 10, but he doesn't have long arms.
Drink every time someone brings up adversity.
No pressure at all in being compared to Tyreek Hill on the night of the draft.
Enough about long arms. My God.
Goodell trying not to terrify the children.
Is that a cover band? It sounds like a cassette tape that's been left in the sun.
Never attend the draft in person, kids. You run the risk of being THAT guy, like Will Levis tonight and Aaron Rodgers before him.
Tampa doesn't need a QB anyway. They have Baker Mayfield.
Damn all of you who gave Will Levis false hope.
Commanders' colors made the entire stage look like candy corn. Gross.
NFL using the Jonas Brothers to try to court the kids. Kids today only listen to the music on Tik Toks!
Goodell trying to display human emotions is even more awkward than usual.
Jets fans must be brimming with confidence. Like when one guy in your draft takes aaaaall his allotted time to make a pick. In the 10th round.
The pressure of trying to make sure Aaron Rodgers likes your draft pick.
Maybe we don't have to make visibly disappointed sounds about draftees.
Begging someone to write a new song about Alabama
Did we just imagine that terrifying mural in the Lions' draft room?
Imagine spending money to travel to the draft because you're a diehard Titans fan
So many white suits.
The sincerity and earnestness of the draftees is just precious. We ride at dawn if anyone harms any of them.
Nothing reminds you that these are still kids in giant adult bodies like seeing the fit of some of these suits.
The trope of NFL teams and draft picks at romantic dinners continues to be unnecessary.
Travis Kelce loses points for bringing up Fight For Your Right to Party again.
Kristen Schaal and Eric Stonestreet get points for not being Paul Rudd, Jon Hamm. or Jason Sudeikis, the standard KC celebs.
Now it's time for the annual booing of the Commissioner. Majestic.
We start out with a cringey video package featuring Brian Baumgartner — who we love — and Rob Riggle, who loses points for too many bad NFL on FOX sketches, but wins back points for letting Dwight steer the boat. Honestly didn't think it was part of the festivities at first. Seemed more like a PointsBet commercial.