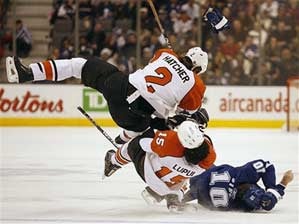 The NHL Closer is written by Greg Wyshynski, of The FanHouse and The Fourth Period. He is also the author of Glow Pucks And 10-Cent Beer. Enjoy.
More Brotherly Love. Boarding a guy from behind is soooooo 2007, so the Philadelphia Flyers are on a mission to find new and exciting ways to try and earn lengthy suspensions. Like Steve Downie, who has already earned a 20-gamer this season, sucker-punching a guy with cancer Saturday night in Toronto. And like Derian Hatcher one night earlier in New Jersey, trying to moisturize Travis Zajac's cuticles by allegedly biting through his glove during a scrum.
The NHL's looking at the first situation, but has already decided not to punish Tyson Lecter Hatcher for the suspected chomping. Eric McErlain has the Flyers' weekend rap sheet with video links over on FanHouse, saying that "when the suspensions and fines get handed out this time, [Coach John] Stevens and [G.M. Paul] Holmgren need to get rung up. And it needs to hurt." And I'm saying that any fines that come their way will be settled out of Comcast's petty cash, so what's the point? If you really want send an anti-goon message, start suspending these players for a chunk of regular season games AND postseason games.
Back to Hatcher. As the CBC announcers said in the clip below, you always have to watch out when this guy's on the ice — even when you're on his team:
Hatcher's inadvertent headhunting of Joffrey Lupul gave the right winger a mild concussion, a "contusion of his fifth and sixth cervical vertebrae" and a place on IR for the rest of the month. One unexpected positive for the Flyers: Lupul's injury proves that at least of them has a spine, something that had been in question for most of this season.
Puck Headlines
* Nobody skewers hockey promotions better than the MYFO boys. When you add dick jokes to the equation, it's like a perfect storm of hockey snark. [MYFO]
* Canada's gold medal-winning juniors were a bunch of lucky little buggers. Matt Halischuk had the clincher in overtime, joining Paul Henderson, the Juno Awards and "This Hour Has 22 Minutes" as Canadian legends most Americans know jack and shit about. [Waiting For Stanley]
* So Roberto's going to be a daddy. Evidently, he's not the only Luongo to let a shot get by once in a while. [The Vancouver Sun]
* The San Jose Sharks basically play on a rink filled with Slurpee on most nights, and it's because some of their fans hate to be cold at a hockey game. These must be the same idiots that microwave their ice cream, too. [Mercury News.
* Remembering the lamest hockey fight of all time — now with scat. [Maniac World]
* This "Don't Quit Your Day Job" video with James Wisniewski of the Blackhawks as a hotel concierge is making its way around the Intertubes. Most of it plays like an overlong SportsCenter commercial without a punchline, which is to say a SportsCenter commercial produced by Lorne Michaels. I like how he keeps throwing his gloves down to do things, and there's a dentures joke that's nearly worth the running time. But it uses the music from "Everybody Loves Raymond" just over a year after the death of Emmy Award-winning actor Peter Boyle. Too soon, you heartless pricks. Too. Soon. [ YouTube]
* Finally, the Islanders are in Edmonton tonight, where they'll eat pints of Ben and Jerry's together and wonder where it all went wrong. "OMG, Ryan Smyth is such a jerk!" "Yeah, like, a total jerk. All he cares about is money." "Yeah, such a jerk...but I sure do miss him." "Hold me and never let go..." [a href="http://www.newsday.com/sports/hockey/islanders/ny-spisles010708,0,5265001.story">Newsday]
The Brewmeister Ratings. Power rankings suck. This much, we know. The fact that the WWL has someone cashing a check for deciding whether Nashville or Edmonton has earned the right to be called the 26th most "powerful" team in the league should be a ray of hope for those seniors in J-school that don't believe their mediocre skills and humorless insight have a place in a changing digital media landscape. As long as there are "power rankings," there will always be the potential for post-grad employment that provides student newspaper suck-ups with enough scratch to buy more pre-distressed American Eagle polos for their collection.
Rankings and "power" lists are created to facilitate trifling conversations that are the rhetorical equivalent of a dog debating its own tail. In other words, they're a complete jerk off — which would probably make my book that ranks the 101 worst ideas in sports history the masturbatory equivalent of Times Square on a summer night in the 1970s, come to think of it.
In reality, any professional sports team "power ranking" can be boiled down to its essentials: The two best, the two worst. It's like on the new "American Gladiators": Give me the giant Q-Tips, Powerball, the thing with the tennis-ball cannon and the Eliminator, and cut the rest. Well, unless any of the other events feature the Wolf. "OWWWW-OOOOOOO!"
Looking back over the last seven days of NHL action, I've identified the two winners and two losers. And since pseudo-statistical and tedious analysis are the stuff of "power rankings," I've decided to describe their fortunes with a form of universal expression: In terms of beer.
Welcome to The Brewmeister Ratings...
Winner No. 1: Calgary Flames. Wins over Vancouver, the Rangers, San Jose and Los Angeles propelled the Flames to the top of the Smythe Division. How good are things in Calgary? Mike Keenan has turned into a big softie, letting players dictate practices and have input on team decisions. He might even let Jarome Iginla have that Red Rider BB gun next Christmas. The Beer They'd Be: Ice cold Sierra Nevada in a tall pilsner glass, served between the supple buttocks of Natalie Portman from Wes Anderson's short film "Hotel Chevalier."
Winner No. 2: Phoenix Coyotes. Coach Gretzky's Coyotes went 4-0 over the last week, outscoring their opponents 16-9; most games probably beat the over, which I hope made Mrs. Gretzky happy. The 'Yotes are now just four points out of a playoff spot, but I'd be willing to bet there'll only be one Canadian representing Phoenix in the postseason come April. (Someone get me Tocchet on the phone so I can lay odds on Nash...) The Beer They'd Be: Oxford Hefeweizen on tap. Golden on the pour, but drink it fast before its flavors inevitably disappear. Might be more popular in a year or two.
Loser No. 1: Dallas Stars Detroit treated the Stars about as well as it treated Mike Martz, handing Dallas two of its four losses over the last week. Things are so desperate right now, the puck bunnies have dropped their Mike Modano fantasies and started dreaming about kicking ass in team meetings. The Beer They'd Be: A can of Lone Star beer that fell off the back of a pickup truck onto a dirt road because the bass was turned up way too high on Mellencamp's "This Is Our Chevy."
Loser No. 2: Chicago Blackhawks. I feel a little bad putting the 'Hawks on here. They lost four games over the last week, but they're like an infirmary on skates right now. In Sunday's loss to Detroit, Chicago was missing Brent Sopel, James Wisniewski, Jonathan Toews, Jason Williams, Kevyn Adams, Dave Bolland, Ben Eager and Kerry Wood (I'm just assuming on that last one). Which sucks, because the real news is that the Blackhawks had their biggest United Center crowd since 1999 against the Wings. The last time a sellout made this kind of news in Chicago, Dan Ackroyd announced he was making "Blues Brothers 2000." The Beer They'd Be: A bottle of Corona Light in which a poorly cut lime has been jammed into the neck as a de facto cork, until someone violently stabs it down with the butt end of a fork.