From time to time we come across a highfalutin recipe with an ingredients list that strikes us as a hair on the costly side. And when we do, we're gonna run those ingredients through the checkout aisle at Whole Foods on the Bowery to see how it adds up.
The other week, during The Great Sriracha Panic, food publications rushed to republish any and all recipes using that most beloved of hot sauces. Who can blame them? Why shouldn't they get more milage out of existing content by capitalizing on a news hook, tragic though that hook may be? Plus: More sriracha recipes for us!
One that caught my attention was a Food & Wine recipe from 2010 for Sriracha-and-Wasabi Deviled Eggs. Mostly it caught my attention because it was Halloween week and thematic foodstuffs are my weakness. That Devil, you see ….
That Devil reared his head in the form of star anise. The minute I saw that star anise on the ingredients list CHA-CHING! It's Foodspend time!
G/O Media may get a commission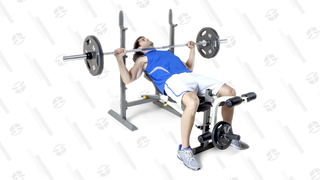 10% Off
Marcy Folding Weight Bench
To the recipe we go:
1/4 cup sugar
1/4 cup coarsely grated peeled fresh ginger
1/2 cup sake
1/4 cup snipped chives
1 dozen large eggs
1 tablespoon sriracha
1/4 cup plus 1 tablespoon mayonnaise
10 star anise pods
Pinch of Chinese five-spice powder
1/2 cup chopped scallions
2 cups soy sauce
2 1/4 teaspoons wasabi paste
In the spirit of fairness, let's go ahead and assume that most people have sugar in their homes or are at least enterprising enough to go to Starbucks and steal a whole bunch of little sugar packets. Not that you should do that. (But if you do, we'll look the other way.)
As for the sriracha, let's count it for the talley since it's mentioned in the title of the recipe. In reality, you stocked up last week during The Panic, but it's a fairly inexpensive item anyway, $4.39 for a huge bottle of the stuff that you will assuredly use elsewhere in life. By elsewhere, of course I mean everywhere.
Our allium requirement this go-'round calls for chives and scallions. The scallions were a bargain at $1.29 but yoinks, the chives cost $2.49. For whatever reason Whole Foods no longer sells loose ginger; they've got it all bound up in plastic containers. Those containers cost $2, which means it's time for our ritual bellowing. It's all worth it for the ritual bellowing! (Use the leftover ginger to make ginger tea; your stomach will thank you after you house all the deviled eggs.)
The cheapest option for a dozen eggs were the cage-free large brown numbers—$2.99, which is a small price to pay for the comfort of the chickens. Who will think of the caged chickens, I ask you? Who?? Speaking of eggs and the fruit of their egginess, the mayo costs $3.49.
And now it is time to price out those star anise pods. A jar of 'em, which you'll use up in its entirety to get to the ten pods the recipe calls for, costs $4.69. Cha-ching, cha-ching, cha-ching. And that pinch of Chinese five-spice powder will take you for $2.69 and then sit in your spice cabinet giving you the stink-eye until the day in 2067 when you finally admit that you're never ever going to have another use for it and pitch it in the garbage. At which point you will promptly find a recipe that calls for Chinese five-spice powder and the cycle will begin anew.
Now look, yes, most people probably have soy sauce in their homes. But this recipe calls for two cups of the stuff which means you're either buying new soy sauce ($2.99, btw) or heading out for a replacement bottle when things are all said and done. While we're on the subject of Asian foodstuffs, that tube of wasabi paste is $4.99. On the bright side, you can (and should!) mix it with the leftover mayo and spread it on sandwiches or whatever the heck else you like to put mayo on.
The final item to price out was the sake, which Whole Foods doesn't carry, but which my local wine store does at $8.99 for a small bottle. But they also owned up to the fact that it can be found cheaper, and oh yes, there is a much larger bottle available via Total Wine Dot Com for $6.49. Hurrah!
To the tally we go!
1/4 cup sugar — Null
1/4 cup coarsely grated peeled fresh ginger — $2.00
1/2 cup sake — $6.49
1/4 cup snipped chives — 2.49
1 dozen large eggs — $2.99
1 tablespoon sriracha — $4.39
1/4 cup plus 1 tablespoon mayonnaise — $3.49
10 star anise pods — $4.69
Pinch of Chinese five-spice powder — $2.69
1/2 cup chopped scallions — $1.29
2 cups soy sauce — $2.99
2 1/4 teaspoons wasabi paste — $4.99
$38.50. That's a cost of $3.20 per deviled egg. I dunno. $40 deviled eggs sound pretty pricey to me, what about you? Even if we remove the cost of the sriracha under the assumption that everyone has it in the home, bringing the total to $34.11, that's still a lot to shell out for deviled eggs. OH YES PUN INTENDED.
Jolie Kerr is the author of the upcoming book My Boyfriend Barfed In My Handbag … And Other Things You Can't Ask Martha (Plume, February 25, 2014); more of her natterings about food and cleaning can be found on Twitter, Kinja, and Tumblr.