On Tuesday, we told you that ESPN execs are ready to walk away from Rick Reilly's contract when it expires next year. But what about this year's expiring contracts? Whose time in Bristol might soon be over? We counted at least four ESPN talents—plus Colin Cowherd—whose deals are up this year. Here's a rundown, with some handicapping based on conversations with Bristol sources.
Scott Van Pelt
He's been with ESPN for 11 years, and he's the biggest talent on the block. His name is already in the mix for the NBC Sports Network. Chance he's leaving: 30%
NBC can offer Van Pelt something awfully attractive: access to his former employer (Comcast's Golf Channel) and presumably plenty of time on the flagship network itself. But then there's one thing they can't offer him: radio. Van Pelt loves radio as much as he does TV work. It's possible NBC would let him do radio separately, but Van Pelt already has his own show with ESPN and that may be a big enticement to stay. Comcast's overtures notwithstanding, it's felt within Bristol he'll wind up staying.
G/O Media may get a commission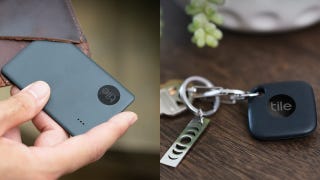 Up to 35% off
Tile Item Trackers
Michelle Beadle
In the last year, the SportsNation co-host since 2009 has become the It Girl at the channel. Her leverage will never be greater. Chance she's leaving: 80%
Beadle is said to have ambitions that extend well beyond SportsNation. When she co-hosted Live! with Regis and Kelly last July, it's exactly where she wanted to be: Morning TV, with a much broader audience than what she finds on ESPN2 in the late afternoon. She has flexibility as well: She lives in the city and she's not married. This is the moment for her to cash in. If she does go, who will replace her on SportsNation? ESPN Kremlinologists already have their eyes on frequent guest host Charissa Thompson.
Erin Andrews
Right, well … Chance she's leaving: 20%
Andrews—much to her dismay—lost her tiara to Beadle sometime last year. Her options have narrowed, and after running through a few too many brushes with unwanted fame in the last few years, she might find the job market out there to be daunting. Staying with ESPN will continue to give her access to something she loves—ABC's Good Morning America. Bristol is anticipating she will almost definitely re-sign.
Dana Jacobson
She's gone at the end of the month. Chance she's leaving: 100%
Jacobson announced her departure in March. No one knows where she's headed next. Does she have something lined up? Did she just want out? ESPN tried to re-sign her, and she said no. Bottoms up!
Colin Cowherd
Chance he's leaving: 0%
Well, his deal isn't technically up, but his contract for SportsNation is up at the end of the year. If Beadle leaves, does ESPN wind up shaking up the show's format?
Who else has a contract that's about to expire at ESPN? Anyone on the production side? Tell us!