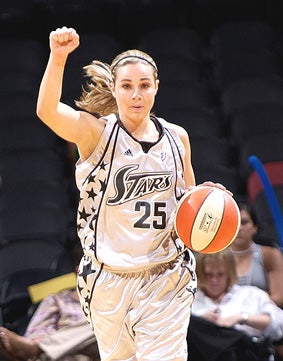 Becky Hammon's decision to play for the Russian national team in the 2008 Olympics has stirred up all sorts of Cold War emotions in Americans, yet once U.S. coach Anne Donovan calls you a "traitor" for your decision, well, it's a Rocky IV mindset all over again.
For those who don't follow what goes on in the Women's National Basketball Association, Hammon is one of the most popular players in the league as a point guard for the San Antonio Silver Stars. Last year, Hammon was runner-up to the MVP award and played for a Russian club team in the off-season to hone her skills and make some serious coin. She received a dual-citizenship as a result and was eligible to play for the Russian national team. After she was snubbed from the 23-person roster for the '08 squad, Hammon still wanted to play for an Olympic team, and since Russia was offering her that chance, she took it. That decision prompted Donovan to make these Lee Greenwood-inspired comments to ESPN's Mark Schwartz:
"If you play in this country, live in this country, and you grow up in the heartland and you put on a Russian uniform, you are not a patriotic person in my mind."
What's more amusing about this story is the fact that it's been sitting around for a couple of months with little or no coverage about it. (WNBA fever. Catch that shit.) But since CNN decided to interview Donovan so she could re-flex her jingoism muscles for a national audience, the story is finally being noticed.
American Becky Hammon Called 'Traitor' For Representing Russia At Olympics [AOL Fanhouse]

As for me, I'm rooting for Becky Hammon [The Oregonian]