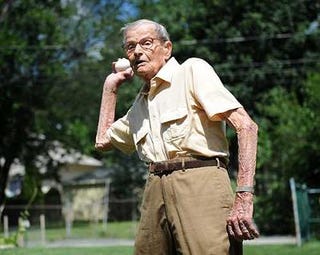 Leo Hildebrand wants to throw out the first pitch at a Chicago Cubs game. And since the 104-year-old is one of the few living things old enough to have actually seen the Cubs win a World Series (the bristlecone pine and certain species of desert tortoise are the others), one would think that the team would place him at the head of the list. But no. The Cubs are actually chasing an old man off of their lawn.
A lifelong Cubs fan, Hildebrand wants to throw out the first pitch at Wrigley Field for a game during the Cubs' expected playoff run. His neighbor and good friend, Henny Kronvold, tried to persuade the Cubs to let Hildebrand pitch last season, but the Cubs politely told her all of the slots were taken, Kronvold said. "He can't wait much longer," said Arlene Burm, Hildebrand's 69-year-old daughter. Jason Carr, a Cubs spokesman, said the organization reviews and considers all first-pitch requests. "Due to the large number of requests and suggestions, and given the limited opportunities, it's difficult to accommodate everyone,'' Carr said. ''We have so many deserving fans — including Leo Hildebrand — but can't get to them all.''
Are we going to take this? I propose a Let Leo Pitch campaign, with a four-pronged attack. First, for the Cubs' next homestand which begins Aug. 19 against Cincinnati, all fans should bring a Depends undergarment to the game. Then at the conclusion of every even-numbered inning, everyone wave them in unison. If you're driving to the game, circle the stadium very slowly about three times with an indicator light blinking the entire way. Also, throwing a set of toy chattering dentures onto the field (between innings) would be several kinds of awesome. And fans throughout the country — at every park — should wear onions on their belts in support of Leo's quest. How could the Cubs not take notice and put Leo in the lineup? Lou Pineilla knows the value of a timely substitution, and my suggestion is that he talk some sense into the front office before this bad karma comes back to bite them. Besides, Leo is a pistol.
"I enjoy eating and sleeping — my two favorite things," Hildebrand said. "That's why I'm still here."
A Century In The Making [Chicago Sun-Times]