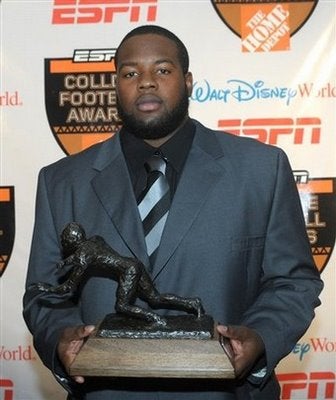 The puzzling story of Andre Smith, the University of Alabama's ready-made NFL lineman, continues to frustrate and infuriate NFL Combine geeks who are incensed at Smith's inability to play nicely.
What started on Saturday as a mysterious disappearance then morphed into the more troublesome "character issues," which has, according to some experts, knocked the 6'4", 332-lb.* Smith from a possible top-five pick to the bottom of the first round. CNBC's Darren Rovell does some fuzzy math and estimates that Smith's overall financial loss due to his behavior is somewhere in the $23.8 million ballpark. Even though Smith is currently in damage-control mode, it appears unless he drops 30 pounds, jumps out of a pool, and suddenly gains the eloquent humility of Myron Rolle, the dude legitimately pissed on a boatload of cash and credibility.
"I'm dropping him down on my list," NFL Network analyst Mike Mayock told ProFootballTalk.com. "You don't show up in shape for the biggest job interview of your life. You don't lift. You don't run. You don't show up. It's the worst thing you can do. How can you not show up in shape for this?"
Right now, Smith may be projected to drop to 28th, which is the current draft position for the Philadelphia Eagles, who are planning to refurbish their offensive line this year. But the Eagles are fully-stocked with flaky, underwhelming offensive linemen at this point, so it would be surprising if they actually bit on this guy.