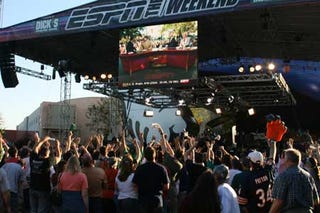 This past weekend was ESPN's annual shmooze-fest at Disney World, where fans of the network can interact with living, breathing ESPN talking heads and touch them to see if they're real.
But the economy took a toll on the festivities this year, as instead of the usual big-time athlete VIP host, fans were gifted with... Mike Greenberg and Mike Golic. Also? The whole event was, according to one ESPNer, scaled back: Not as many perks for ESPN staff including none of the personalized VIP tour fast-passes, so people like Jay Crawford can feel important by blowing through the line at Space Mountain.
One person who probably wouldn't have minded not attending this year was baseball writer Buster Olney, who did a cheerful little blog post about his Magic Kingdom experience. Actually, in the post, he referred to his young son as "the Antichrist" and bitched about nearly vomiting during every ride:
I swear that everything I have eaten in my 45 years on this earth was gathering at the core of my stomach, like lava collecting before the eruption of a volcano. I began to imagine how it would look to the 200 or so toddlers waiting in line if they saw an adult erupt all over the flooring of the teacup ride.

Thankfully, it ended, just in time. I let my wife take the rest of the rides, for the rest of the day, with her spawn. Writing about baseball is a much safer existence.
Things sound downright cheerful in the Olney household. I think he should definitely host this event next year. In his defense, I will cop to almost booting it during the hellish Mad Teacup ride as well. They shouldn't allow six-year-olds to spin that wheel.
UPDATE: So it turns out that our ESPN correspondent was the only one who did not experience the VIP treatment. Oh, and the athletes were bigger than ever according to ESPN. Most Bristol people had a lovely, raucous time and were treated like little Frog Princes all weekend. Except our source, who was apparently left out of all the fun. Hope they're not fired.
Break from Baseball Sickening [ESPN [Insider]