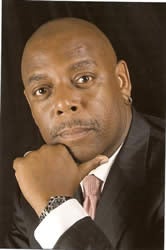 Rejoice, Braves fans. Fred Hickman, the man who set the ESPN record for absenteeism while a member of the WWL, is coming to your town. Until he inevitably gets fired, of course.
But it's true for now. Fox South Network announced in a press release that Hickman will host Braves LIVE, the team's pre- and post-game show, according to David O'Brien of the Atlanta Journal Constitution(See comment at 5:12 p.m. for press release).
Now this could be an absolute disaster, and FSN could end with a pre-game show consisting of an empty broadcast booth for a few segments due to the notoriously flaky Hickman wandering off during a commercial break. Or maybe the time off has completely reinvigorated Fred, and he's found solace in the redemptive power of Hotlanta. According to the most recent interview he did in January of 2009, it appears that's the case. In that interview, Fred hints to some of the troubles that have plagued him through some of his career:
How do I say this so it's not misunderstood? I think it's because I have never cared what people thought. I have had my fans and I have had my detractors inside the newsrooms. They know who they were but, more important, I knew who they were. All I have ever tried to do is the right thing the right way…sometimes despite some tragic personal circumstances few knew about, so I have no regrets nor any grudges. I attribute my success to God's grace, hard work, attention to detail, and giving the viewer credit for having good sense.
Hopefully FSN employees will keep us updated on how Fred's doing over there. I wish him the best and hope for the sake of the production assistant's sanity he's finally mastered teleprompter cues.