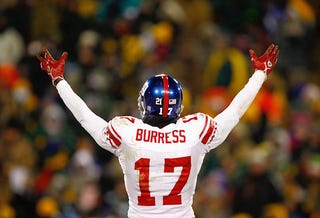 Ralph Vacchiano of the Daily News calls this move "shocking" but that seems a little overboard. What else were the Giants supposed do with Plaxico Burress?
Coach Tom Coughlin signed his name to a polite press release:
"Plaxico's contribution to our championship season in 2007 can never be underestimated or undervalue. He displayed tremendous determination throughout that season. Having said that, I have always been as concerned about Plaxico as a man as I have been about him as a player, and my hope is that everything that has happened over the past several months represents a turning point. He is a young man with a family who has a whole lifetime ahead of him, and I personally wish him and his family well."
So there's a receiver with a hole in his leg (and his heart) on the market now for those teams that need them. Perhaps there will be interest from an NFC team with a brand new quarterback who also comes with considerable baggage.
Giants Cut Plaxico Burress [The Blue Screen]