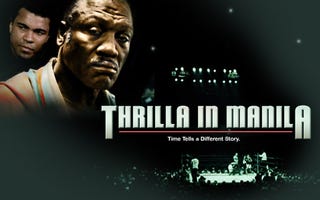 As a heavyweight, Joe Frazier was as tough and awe-inspiring as they come. That's why it's hard to listen to him now; both because of the way he speaks, and what he's saying.
HBO rolls out its Joe Frazier documentary, Thrilla In Manilla, on Saturday, and I hear it's pretty good. Frazier has been doing publicity for it, such as this interview with the Associated Press where he says, in effect, that Muhammad Ali's bout with Parkinson's Disease was a judgment from God. No, he really does not like the man, even today.
"I'm sorry that he is the way he is, but I didn't have too much to do with it. It was the good man above,'' Frazier said. "Maybe I did have a little to do with it, but God judges, you know what I'm saying? We don't have the power to judge that the man has above.''

Frazier believes that Ali's arrogant boasts of "I am the greatest!'' were "a slap in the Lord's face,'' and that he did the same to his family when he changed his name from Cassius Clay to reflect his Muslim beliefs.

"I respect him as a guy who did a fine job in the fight game,'' Frazier said. "I don't think he really loves me. I didn't like nothing he done, you know?''
As sad as that line of thinking is, it's even sadder to listen to Frazier talk these days. He's had his own health problems, and knocking heads with Ali in that famed fight trilogy didn't help. From the Boomer Esiason and Craig Carton show on WFAN in New York, Frazier on Ali:
"He called me a Tom, he called me a gorilla, but that didn't stop from living and doing my thing. My job was to go out there and get the job done and show him what kind of man I was. I helped this guy along the way, I helped him get his license to fight again and he didn't appreciate it."
For those hoping for some sort of a reconciliation, well, that seems a long way off.
AP Interview: Joe Frazier Still Simmering Over Ali [NBC Sports]
If You Don't Think Punch Drunk Is A Real Term, Listen To Joe Frazier [Sports Radio Interviews]