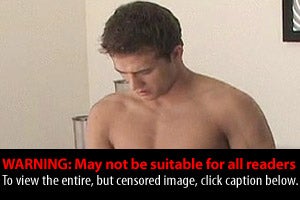 "Outside The Lines" took a closer look at Nebraska's wrestling program (spoiler: it's corrupt) after last year's uncomfortable gay porn scandal, and somehow everyone involved ends up looking like the bad guy. Go figure!
To refresh your memory, Paul Donahoe and Kenny Jordan were kicked off the Husker wrestling team last year because they appeared naked on a gay porn website called Fratmen.tv. Both men say it's not fair—not because of the whole gay thing, but because everyone on the team (including themselves) are guilty of far worse crimes that no one has ever been punished for. But Nebraska couldn't cover up naked internet photos, so these two guys had to go.
And go, they did. Donahoe transferred to Edinboro College and Jordan went to Purdue. However, while Donahoe made his way to the NCAA finals this season, Jordan had to sit out a year and is still waiting to see if Purdue will actually give him a scholarship. Why the different treatment? Some say Donahoe was given permission to transfer worry-free, because he won a National Championship for the Huskers and was head coach Mark Manning's favorite son. Others say it was because Donahoe blackmailed the athletic department, threatening to expose numerous instances of wrongdoing unless they gave him an unconditional release. And by "others," we mean that it was Donahoe who said that himself.
But when ESPN did a follow up interview seven weeks later, to find out more about this alleged wrongdoing, suddenly he didn't remember ever saying that! How convenient. He also said he was going to return to Fratmen.tv, but has yet to keep his promise. (I guess he really likes jerking people around.) However, Jordan did confess that athletes gambled large sums of money on poker games—playing against their coaches—and two other members of the team got into a bone-crunching fight after getting drunk at Manning's wedding. (They were underage, too.) Nearly one-third of the program's athletes in the last two years have been charged with a crime and a former Husker football player says it's better to commit a crime in Lincoln than a NCAA violation, because the school isn't concerned with enforcing actual laws.
It isn't really fair for Nebraska to kick two people off the team for doing something that isn't at all illegal, but after watching his interviews it is kind of hard to feel sorry for Donahoe. He really just seems like a cocky little prick—although that isn't why he's so popular over at Fleshbot, wink, wink (NSFW, duh)—who is ticked off that for the first time in his precious life, he wasn't allowed to get away with something. Both Donahoe and Jordan had plenty of legal troubles while in Lincoln and probably should have been kicked off the team long before they were given the official boot. Gay porn was certainly the least of their crimes.
Jordan, who is no saint himself, was treated much less fairly, but at least he has a good perspective on things. "We did some porn. Get over it," he says. If I had a nickel for every time I heard that one....
Wrestler Paul Donahoe's nude photos cost him a college career at Nebraska [Outside The Lines]