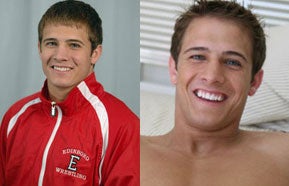 Remember those Nebraska wrestlers who occasionally liked to take their clothes off for gay porn sites? It turns out that they also like to wrestle! One of them is pretty good at it, too.
Paul Donahoe was kicked off the Cornhuskers grappling squad last year after he and teammate Kenny Jordan were discovered just as God made them on the naughty picture site Fratmen.tv. Donahoe left Lincoln and enrolled at Edinboro University in Pennsylvania, which is Division II in all other sports, but is somehow Division I in wrestling.
His record this season? 24-0
Donahoe is the top-ranked 125-pounder in the country and he hopes to become the first wrestler to win an individual NCAA title for two different schools. (He won his weight class in 2007.) The team is coached by former Olympian Bruce Baumgartner, who felt Donahoe deserved a second chance. Apparently, he came to the ground-breaking conclusion that taking your clothes off for the sexual delight of others is only slightly more scandalous than rolling around on a mat with other muscle-bound dudes as leering onlookers shout their lusty approval.
Wrestler in porn scandal unbeaten at new school [Outsports, via the very penis-friendly Fleshbot (NSFW, duh.)]