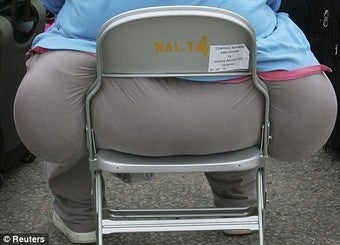 Every last one of Matt Lignell's 465 pounds has taken issue with how Purdue University recently treated them. Read the shades of Kevin Smith in the letter he wrote to the student newspaper ...
I would like to thank you all for the shabby treatment that I was subjected to at the homecoming football game on Saturday. I payed (sic) face value for a ticket in the "horseshoe" of Ross-Ade stadium and was told that I had to leave my seat as I was taking up too much space after the first quarter and spent the rest of the game listening to it from a bench outside the access to section 115 on the concourse.
I have now attended football games in EVERY Big Ten Conference stadium, and must say this is the worst treatment I have EVER been subjected to. ...
Now the upshot, for those of you who believe in the eastern belief of Kharma (sic), I feel it was served by Robbie Hummel's injury, so in closing I say enjoy the whooping that OSU is going to apply Saturday, and enjoy watching the University of Illinois win the Big 10 men's basketball title. I thought Purdue was an institute of intellect, understanding and compassion – now I know it's just slack-jawed, inbred hicks who do not adhere to the Americans with disabilities act of 1996.
Body blow. Body blow. Body blow!
Well, not so fast, retorted "senior in the College of Health and Human Sciences" Matt Post ...
You are fat, not disabled – there is a difference. We should not have to give you special treatment because you can't take care of yourself. Also referring to everyone at Purdue as "slack-jawed, inbred hicks" is kind of funny because you don't seem to be able to maintain a healthy lifestyle yourself. And don't you ever speak ill of Robbie Hummel again, he is 50 times the man you will ever be (achievement wise, not size). That is all.