The Sixers rolled into this summer riding high following a 52-win season and their first playoff series victory since 2012. The organization was finally ready to shift fully from Asset Collection mode to Fortifying a Contender mode, with head coach Brett Brown making noise in his exit interview about the team's desire to add a veteran free agent star to his exciting core in order to take that elusive and all-important next step.
That, of course, was before the ridiculous mess of then-GM Bryan Colangelo's Twitter scandal, which seemed to take quite a lot of air out of the sails of Philadelphia's big summer plans. Paul George, one of the marquee free agents of this offseason, who'd been linked to the Sixers for weeks, opted to return to Oklahoma City without so much as taking a meeting with Sixers brass; the organization wound up hanging its hat on scoring a meeting with representatives of LeBron James, leaving the Sixers in the somewhat humiliating position of having to go around crowing about how the meeting was not, in fact, merely a courtesy, despite LeBron not actually attending.
So the Sixers will enter the 2018-2019 season with the same core as last season, plus—for better or worse—a healthy Markelle Fultz. NBA free agency has mostly dried up. The only outstanding questions of any real consequence are whether the Celtics will retain an utterly humbled Marcus Smart; whether Tilman Fertitta will be able to stomach paying Clint Capela what he's worth; and whether anyone can pry Kawhi Leonard and his beef-jerky leg away from San Antonio. The Sixers would seem to be operating outside of those mini-dramas, for the time being, but that doesn't mean they've shot their shot. Oh hell no:
This was either the mother of all wild haymakers or the mother of all heat checks—the organization that ran Daryl Morey's most zealous acolyte out of town after three years of cynical lose-at-all-costs wheeling and dealing then turned around and tried to fill the vacancy left by the disgraced rebound-GM with Morey himself. The gall! Why not just bring back Sam Hinkie? Do it for the fans!
G/O Media may get a commission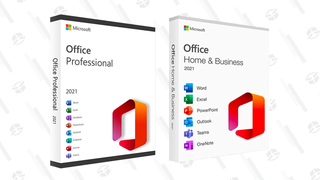 89% off
Microsoft Office Professional 2021 Lifetime License
Morey is entrenched in Houston. The Rockets, alarming sudden-onset penny-pinching notwithstanding, are closer than anyone to having a realistic shot at toppling the Warriors in a playoff series, and Morey is as close to a basketball celebrity as an NBA front office has ever produced outside of Los Angeles. Besides, while they are still so young and cheap, the job of keeping the Sixers competitive could be done by roughly anyone. The challenge—the time when the Sixers will need someone with Morey's talent for orchestrating massively complex salary-shifting trades to strengthen an already expensive roster—will come a few years from now, when Ben Simmons is in line for a max contract and the Sixers find themselves mostly pinned in place, with the kind of limited flexibility most NBA general managers can only manipulate for work around the margins. If the Sixers aren't already bonafide title contenders by then, they will very much have a need for a general manager with moves, and Morey for sure fits the type. By then, too, the Rockets could very will be on the decline, making the prospect of Morey jumping ship more likely. In the meantime, the Sixers pursuit of Morey might not be like one of Pepé Le Pew's doomed courtships, but it definitely is charmingly unrealistic.
Everyone in basketball has an eye on the Sixers these days, positioned as they are with young talent and money to spend in a weakened East. So far all that's been worth this summer is an encouraging pat on the head, but they're certainly right to make a run at anything that can help them capitalize on their recent success. Scoring Morey would've been a huge coup—instead they'll have to settle for gloating that they were once again taken seriously by someone positioned much closer to the promised land.