The first email arrived at 4:28 p.m. Monday. Subject line: "Hot button issue."
A.J.

Please give me a call soonest concerning a potentially explosive story. My cell is 856-xxx-xxxx.

Bill Conlin
That story was published on Tuesday—a lengthy investigation by the Philadelphia Inquirer into allegations that Conlin, a longtime sports columnist for the rival Philadelphia Daily News, had molested four children in the 1970s. Conlin stepped down before the story appeared online.
Jokic? Embiid? The NBA MVP is obvious... right? | Keep it a Buck(et)
On Monday, however, Conlin still held out hope that the report might never run. We emailed and spoke several times throughout the day. He was at times the Conlin I had come to know in recent years—angry, funny, discursive—but he was also obviously scared. He talked about suicide, and I'm still not sure if he was joking.
Conlin and I have a little history: I've been a fan of his for many years, and after I began writing for Deadspin in 2007, we struck up a casual acquaintance (electronically, at least). Conlin wrote stuff for this site. I wrote a tribute for Philadelphia Magazine. It was more of a mutual-admiration society than a friendship, but I can say that I was never going to be one of his many detractors, even though his writing style welcomed them. When his wife, Irma, died, he let me know through email and sent me the eulogy he wrote for her. Last summer, I even flirted with the idea of heading up to Cooperstown to watch him receive the J.G. Taylor Spink Award. I knew how much that honor meant to him. I never went but congratulated him nonetheless. After that, I heard from him when Larry Platt took over the Daily News as editor. Conlin had some issues with Platt; he felt Platt unfairly slammed him 20 years ago. I worked under Platt at Philadelphia Magazine, and Conlin would sneeringly refer to him as "your old boss."
G/O Media may get a commission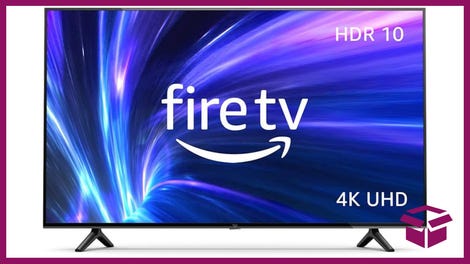 42% Off
Amazon Fire TV 50" 4K Smart TV
All of which is to say that an email from Conlin wasn't unexpected. But an urgent email like that? I called him right away. "Here's the deal, A.J.," he began, "I'm being accused of molesting children from 40 years ago..."
He was calling me from his condo in Largo, Fla.—the condo he would occasionally mention to big-time his readers—and he sounded desperate. Conlin knew the Inquirer's Nancy Phillips was working on a story, and he had an idea of what it would say. He laid out for me a muddled timeline involving his niece (one of his accusers) and a decades-old family vendetta that, Conlin believed, had precipitated the story. It was as if he was piecing together Phillips's story as we spoke. I had a hard time following along. He'd give me specific details about what happened in Margate, N.J., then veer into florid tangents (a Conlin staple in both print and conversation) about the neighborhood's kids and their families there. He was going to get a lawyer, he said, but he also didn't want to be silent. He wanted to defend himself and he wanted to know if he could possibly do it on Deadspin if and when the story came out. There, he reasoned, he could reveal his true feelings, without fear of insulting any dead-tree readership with profanity. Besides, he said, he might not have another outlet once the story hit anyway.
Conlin talked a little about the allegations he expected to find in the story. He said he wasn't very "grandfatherly" and that he always hated having kids in the house in Margate and in Clearwater, Fla., especially while he was working. "Get the hell outside!" he yelled, imagining himself back in Margate once more. Gruffness would be his alibi.
He then half-heartedly insinuated that the piece was running because of the ongoing turf war between the Inquirer and Daily News, which are published by the same company and share certain resources but otherwise compete for the same shrinking readership. "This is a helluva way to take out the top guy!" There was an odd twinge of respect in his voice when he said that. At least, that's what it sounded like to me. Conlin's main concern was his family. True or false, he said, the story would make life difficult for his son. His grandchildren would be taunted at school. He wanted them to be shielded from the fallout, and he sounded like a guy who'd be willing to scream "GUILTY!" through a megaphone in the middle of Center City if it might spare his family members from shame. He couldn't save himself or his career. He knew that.
I don't remember what I told him. I don't remember how I advised him, or if I agreed to publish his response once the Inquirer's story ran. I hadn't seen the story myself, after all. Maybe he was being paranoid? Maybe he'd gotten spooked by a reader email? Maybe the story was still months away from seeing print? I got off the phone with Conlin and began calling around. A source told me that Daily News and Inquirer editors were meeting Tuesday morning to discuss the story. Things were serious. I emailed Conlin again that night. Here's our exchange:
Me to Conlin (7:03 p.m.):
There's a meeting tomorrow between both staffs at 9 a.m. apparently to discuss this.

More importantly: who are you hanging out with in Clearwater?
Me to Conlin (7:11 p.m.):
And we have to go with the fact that there's a meeting be held tomorrow to discuss a story coming out with these allegations. If not, it's everywhere else by noon.
Conlin to me (8:05 p.m.):
You mean DN and Inky staffs? I'm at my condo at Shipwatch in Largo, hanging out with the fishes I might opt to sleep with if this sees the light of day.

Sent from my iPad
Conlin to me (8:27 p.m.):
I don't understand "If not, it's everywhere else by noon."

Sent from my iPad
Me to Conlin (8:57 p.m.):
Meaning once that meeting happens, the news about the story will get out.

Sent from my iPhone
Conlin to me (9:25 p.m.):
So what do you recommend? Suicide? A pre-empt? What? And who lets it out, and why? Washing their hands of my blood and letting somebody else open my veins?

Sent from my iPad
Me to Conlin (9:52 p.m.):
Let's run her email questions from you and a preemptive denial and the fact that you plan to sue for defamation when story drops.

Sent from my iPhone
Conlin to me (10:26 p.m.):
There are no e-mail questions from Phillips—only a request to call her to discuss a "sensitive issue." I was forwarded an e-mail from one of the persons who allegedly had knowledge of the alleged events. She basically scolds Phillips for a reneged promise by the two accusers to keep her and her family's name "out of this." And asks Phillips to not contact her again. I don't wish to do anything that could blow up in my face should they decide not to run the story. I am a lot bigger to the Daily News than Sandusky ever was to Penn State. But I don't have 19 years of heinous molestations involving children in my care that were covered up at many institutional levels. My daughter used to babysit Carlton's and McCarver's kids in spring training. Kalas' kids and my sons are still close. They were home-schooled by the same spring training tutor.

Sent from my iPad
Me to Conlin (10:50 p.m.):
So you don't want it out there before the grave , newspaper version hits?

Sent from my iPhone
Conlin to me (11:10 p.m.):
No, because that makes it a transparent move to cover my ass and which could be construed as a tactical plea bargain. In either case, I will have no choice but to either retire or resign from the Daily News. My "old, red, eyes," as you described them in your generous piece in PhillyMag, have seen more than enough. I will be 78 in May and should have fucking retired 12 years ago. But because I continued to attract more readers on average than any writer on either paper they gave me a sweetheart deal I could not refuse. But I make enough in pension and SS to walk on my salary to retire comfortably. I just do not wish to exit with an undeserved "P" on my chest.
If the piece this beatch writes paints me as a Jekyll-Hyde without identifying the "accusers," their names need to be out there next to mine—since they bought houses from my wife, drank my vodka the night of her viewing and decided after 40 years it was Sandusky Time to come out.

Sent from my iPad
Conlin to me (11:31 p.m.):
I need to see if they name names. I'm sure the accusers were promised anonymity. I do not think that late middle-aged women who decide they were groped 40 years before deserve the same protection as minors. Particularly when there are no court-imposed gag orders. Or charges of any kind. They can toss my good name out there while alleging a crime that was never charged? Fuck that.
Me to Conlin (11:47 p.m.):
Ok. We will wait. Sent from my iPhone
Conlin to me (12:01 a.m.):
I will send you a dummy lede if the occasion arises. And you can decide. My pre-lawyer lawyer says the finalist would want me to fly up immediately so he can look me in the eye. More likely, it would be to look me in the wallet. In a he-said, she-said culture, and with no charges ever filed against me, the huge audience Deadspin provides might be a better way to go than a dying newspaper.
The editors met Tuesday morning. They knew we'd been in contact with Conlin and that we knew about the Inquirer story. Things quickly got weird. Conlin's attorney, George Bochetto, called me in the afternoon and insisted we not post our story about the story. He said that any attempts to quash the piece had been compromised because the editors at the papers knew Conlin had contacted me. They wanted to hurry the story into print, the attorney told me, lest they get scooped on their own scoop. According to Bochetto, Conlin was now saying he had never emailed me. Bochetto wanted to speak with Gawker's attorney as soon as possible. He also made sure I understood the damage this would do to his client's career and family life. Not longer after that, Conlin resigned. We published at 1:26 p.m. The Inquirer published at 4:13 p.m. Three accusers were named. The potentially explosive story had exploded.