Rick Bacon is the sports columnist for The Citizen-Pollinator of West Waterville, Missouri. He won an APSE award in 1987 for his column, "Batting Around." This is his second column for Deadspin. Read his first here.
I've spent a lot of time in press boxes in my day. I watched Dick Vermeil cry on the sidelines. I saw Al MacInnis and the 2001 St. Louis Blues get buried under the Colorado Avalanche, who were on their way to a Stanley Cup. I heard the crack of Mark McGwire's bat when he drove number 62 deep to left off Steve Trachsel in 1998.
And never once did anyone tell me I wasn't dressed appropriately for the game. Not even when Chase Daniel's passing heroics in the 2007 Border War made me fumble a hot dog, so I covered the postgame wearing French's mustard.
Not one time.
So when the wire copy came in to tell me that MLB would now order strict dress codes, I was irritated.
G/O Media may get a commission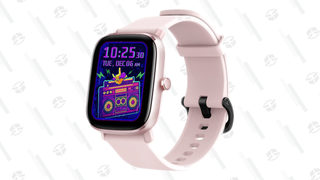 20% Off
Amazfit GTS 2 Mini Smart Watch
Get fit
Has built-in Alexa so you can ask questions and carry your smart assistant around with you; it has a battery that can last up to 14 days, has over 70 different sport modes, is 5ATM waterproof, and tracks stats like your heart rate, calories burned, sleep, and more.
Baseball writers have been at this long enough. We're professionals.
We know what to wear. Down on the field, you might see some players spilling dread locks down their uniform shirts, wearing head rags, or showing off loud tattoos. That's what the "look at me" generation does. How do you focus on the game when you won't even wear your uniform right?
But I've never had a problem with what the guys in the press box are wearing. We wear what we need to do our jobs: comfortable shirts—nothing beats Tommy Bahama on a hot day—some slacks or Bermudas, and a practical shoe.
The Deadspin editors explained to me, though, that the rules are really there to take on the princess female reporters, like ESPN's Erin Andrews and Suzy Kolber, ladies so caked in makeup that Papa Bacon would have slapped me twice had I brought them home. Notably, the rules mention ripped jeans and midriff-revealing shirts, things you won't find in my closet or my nieces'.
And good for Major League Baseball.
These gals might be lookers, but they distract the whole team's attention. It's awkward enough having them in the clubhouse to begin with. Some of us came here to ask questions, not to flirt. We came here to do the reporter's job.
When reporters talk about "inches," we're not talking about the hem of a skirt or the height of a heel. We're talking professional copy.
So enough with the leg show. I want to know why Albert Pujols just turned his back on the good, hard-working people of Missouri for a big paycheck and the white lights of Hollywood. Ted Simmons never would have done that. But I can't ask my question when Pujols is staring at some gal's belly-button ring.
I want to know why the Rams ever hired Steve Spagnuolo. But no one will let me ask, because five different lady reporters in shiny blazers want to ask how that loss "made the Rams feel."
And that's not right. It's good that the locker-room peekaboo act will have to cover up. Fans deserve better coverage too.